Looking for the best photo locations in Mauritius? This guide will show you the most beautiful places to photograph on the island.
Mauritius Island is one of the most beautiful places on earth. Think white sand beaches, turquoise waters, lush mountains overlooking epic landscapes, waterfalls hidden deep in the forest, and so much more!
So if you're visiting soon and looking for the best photo spots, this guide will show you the most Instagrammable places in Mauritius.
***This article may contain affiliate links, meaning each time you click through and make a purchase, I earn a small commission at no extra cost to you which helps a lot in keeping this website running. Thank you for your support 🙂
Read more about Mauritius:
Most Instagrammable Places in Mauritius
If you want the convenience of having someone drive you around some of the best Instagram spots in Mauritius, then I recommend booking this highly-rated Instagram tour. The tour includes visits to the Umbrella Street, Pamplemousses Botanical Garden, Seven Colored Earth, and more.
CLICK HERE TO BOOK AN INSTAGRAM TOUR OF MAURITIUS
Alternatively, if you feel comfortable driving a car in Mauritius, you'll have more freedom to explore at your own pace. You can read my guide to renting a car in Mauritius for tips on how to find the best car rental company, how much it costs, the requirements for renting a car as a foreigner, and other helpful tips.
Le Morne Brabant
Le Morne Brabant is not only the most beautiful hiking trail in Mauritius but also a UNESCO World Heritage Site since it was previously used as a refuge by runaway slaves.
Those brave enough to attempt the hike to Le Morne Brabant will be rewarded with the most spectacular view of the southwest coast.
From the top, you can admire the lush vegetation clinging to the mountains, endless shades of blue, and the spectacular underwater waterfall (which is in fact just an optical illusion). It's no doubt the best photo spot on Mauritius Island!
Although you can hike on your own, I highly recommend hiring a local guide if you're not an experienced hiker as some sections are very steep and slippery.
CLICK HERE TO BOOK A GUIDED HIKE OF LE MORNE
Related post: Le Morne hiking guide
Macondé Viewpoint
Located along the southwest coast, Macondé viewpoint is one of the most beautiful photography places in Mauritius.
The viewpoint can be reached through a narrow set of stairs and once you get to the top, you'll be greeted with a breathtaking view of the turquoise lagoon.
Most people only visit the main viewpoint, but if you want to skip the crowds, I recommend heading to the "alternative "hidden" viewpoint which can be reached after a short 30-minute hike.
You can find out how to get there by reading my guide to visiting Macondé viewpoint.
Related post: Complete guide to visiting Macondé viewpoint
Umbrella Street Caudan Waterfront
Looking for the most Instagrammable place in Mauritius? Look no further than the Umbrella Street at Caudan Waterfront, Port Louis.
This spot can quickly get crowded, so if you want to get the best photos, I recommend visiting early in the morning.
CLICK HERE TO BOOK AN INSTAGRAM TOUR OF MAURITIUS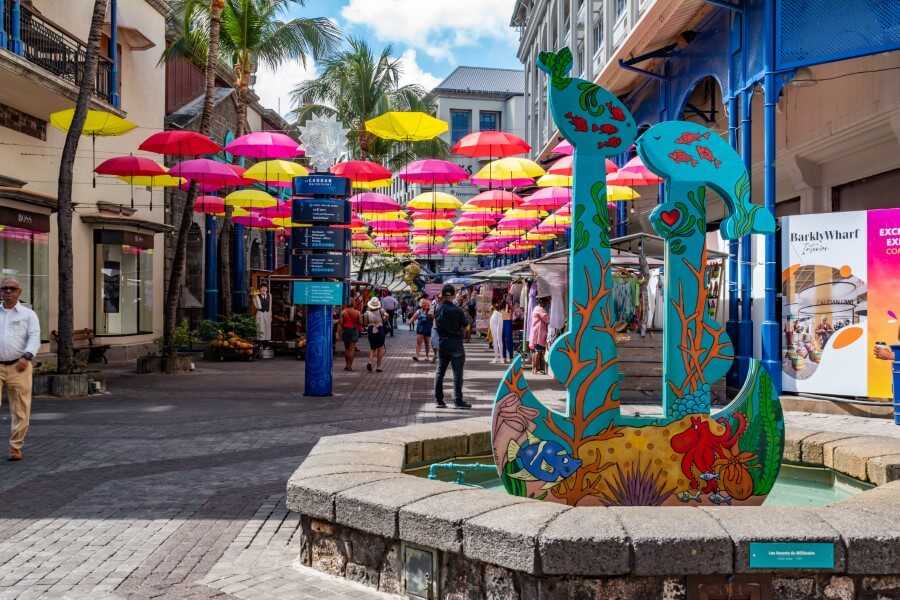 Cap Malheureux Church
Cap Malheureux Church is one of the most popular photo locations in Mauritius, especially among newlyweds. It's easy to see why it's featured in most postcard pictures of Mauritius.
The small red-roof church is situated along the edge of Cap Malheureux beach and overlooks Coin de Mire Island.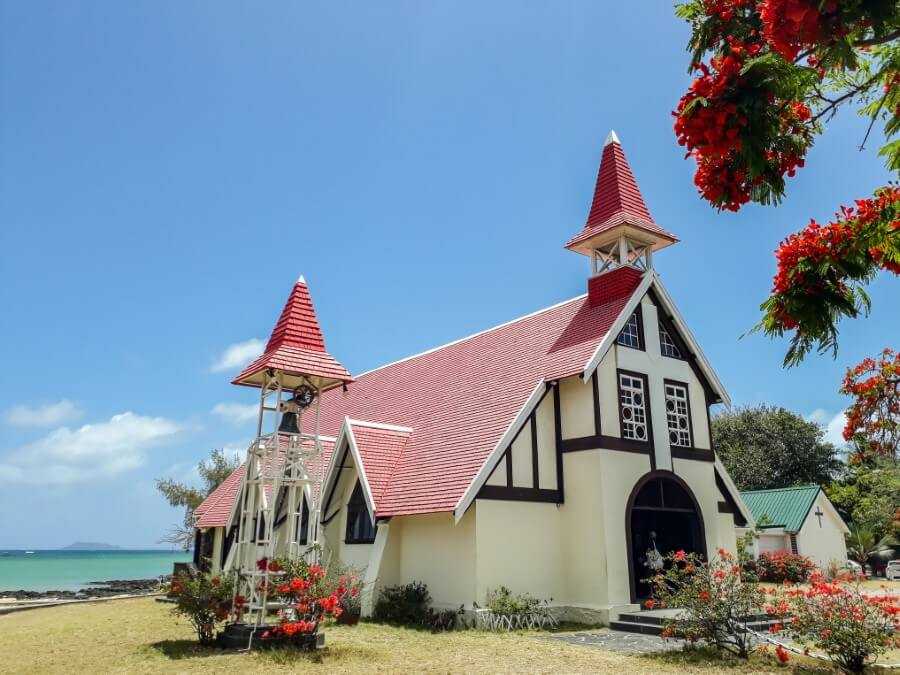 Eau Bleue Waterfalls
If you're looking for the most picturesque waterfall in Mauritius, then make sure to visit Eau Bleue Waterfalls.
Cascading through lush vegetation before plunging into clear turquoise pools, these six waterfalls (or seven if you're visiting during the rainy season) make for the perfect photo backdrop.
If you want to add these waterfalls to your Mauritius itinerary, make sure to read my ultimate guide to visiting Eau Bleue waterfalls to find out how to get there.
Related post: How to get to Eau Bleue Mauritius?
Pamplemousses Botanical Garden
From the palm tree alleys to the giant water lily pond, there is no shortage of photo opportunities at Pamplemousses Botanical Gardens.
If you're already exploring the north of Mauritius, I recommend putting aside at least 1-2 hours to visit the garden.
The Pamplemousses garden is open every day from 8.30 a.m to 5.30 p.m. The entrance fee is Rs 200 (US$ 5) for tourists, Rs 25 for Mauritians, and free for kids under 5 years old.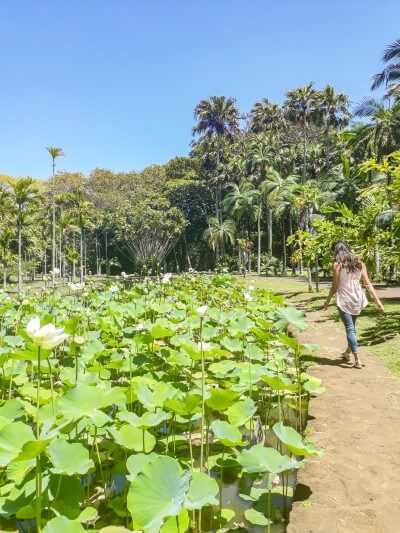 Ile aux Cerfs
Taking a day trip to Ile aux Cerfs is a must for those wanting to visit one of the best beaches on Mauritius Island.
The island boasts fine white sand, crystal clear water, and a great selection of water activities to choose from like snorkeling, parasailing, or tube riding.
The best place to take photos on Ile aux Cerfs is at the beautiful sandbar that stretches out to the sea. You can also head further away from the main drop-off point to discover more secluded and picturesque beaches.
All boat tours to Ile aux Cerfs also include a trip to GRSE waterfall and a BBQ lunch on the beach or on board your catamaran.
CLICK HERE TO BOOK AN ILE AUX CERFS TOUR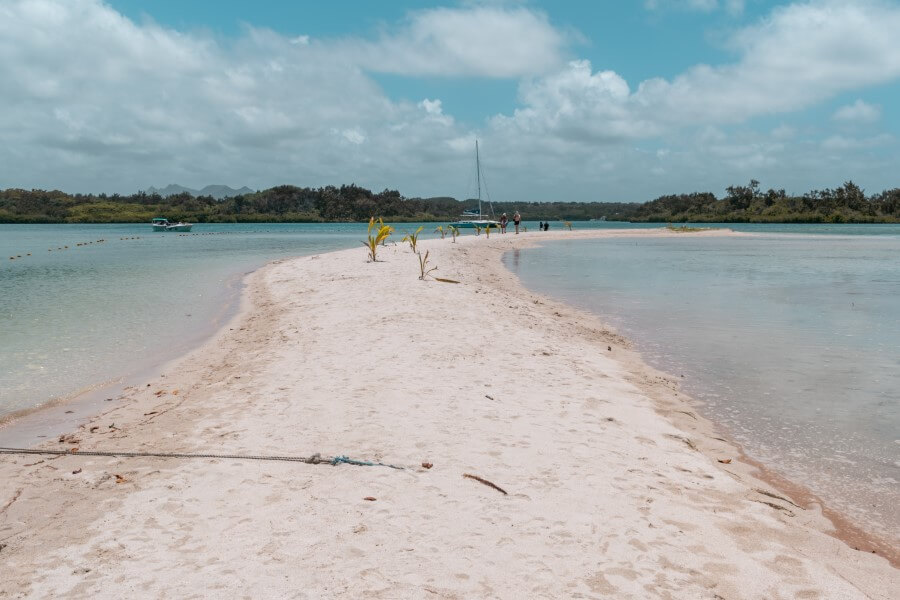 Related post: Guide to taking a tour of Ile aux Cerfs
Ile aux Benitiers
Ile aux Benitiers is one of my favorite places to take photos in Mauritius. This small island is located off the southwest coast and boasts an epic view of Le Morne Brabant mountain.
You can also hop on a short 5-minute boat ride to Crystal Rock which is surrounded by crystal-clear waters teeming with fish.
If you want to visit, I recommend booking this highly-rated dolphin swim and Ile aux Benitiers boat tour. During the tour, you'll have the opportunity to swim with dolphins, snorkel at Crystal Rock, and feast on a delicious BBQ lunch.
CLICK HERE TO BOOK A BOAT TOUR OF ILE AUX BENITIERS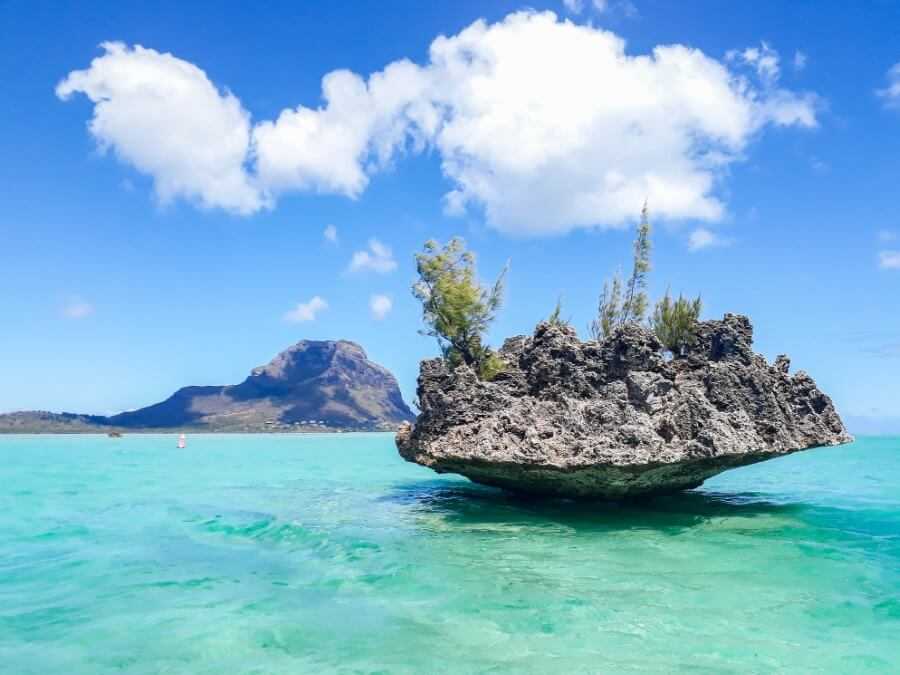 Albion Lighthouse
This is one of the best sunset spots on the island. The red and white lighthouse sits at the edge of a cliff with giant waves crashing below.
The best spot to photograph the lighthouse is from below the cliffs. You can find a narrow path opposite the lighthouse and it should take only about 5-10 minutes to get down.
Below the lighthouse, you'll also find some beach caves and rock pools. I wouldn't recommend swimming in the pools though as they are full of sea urchins.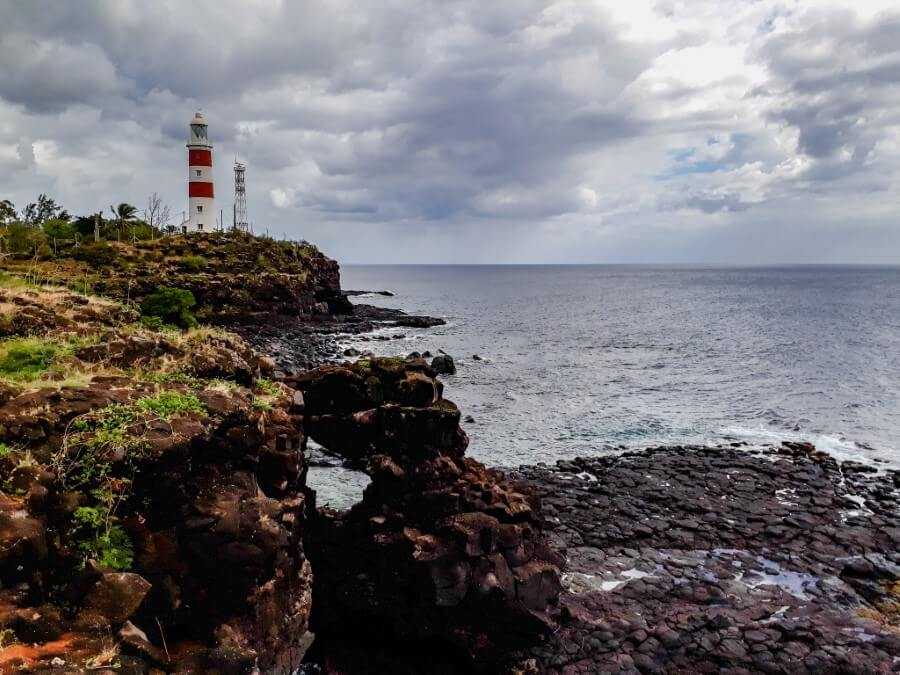 Pont Naturel
This incredible rock formation is one of the most photographed locations in Mauritius. The natural bridge set against the blue waters is one of the most unique places to visit.
The road leading to Pont Naturel is quite bumpy, so if you don't have a 4×4 vehicle, I recommend doing a short hike from La Cambuse beach or Le Bouchon beach.
The hike is very easy and it should take less than 1 hour to get there. Alternatively, you can book a quad bike tour and visit other natural attractions nearby.
Related post: Guide to visiting Pont Naturel Mauritius
Chamarel Waterfall
No list of Instagram-worthy places in Mauritius would be complete without mentioning Chamarel Waterfall.
Dropping from a height of almost 100 meters, it's one of the tallest waterfalls on the island.
You can view the waterfall and take photos from two viewpoints, both of which are easily accessible to most people.
If you're feeling adventurous, you can book a hiking tour to get to the bottom and explore the cave opposite the waterfall.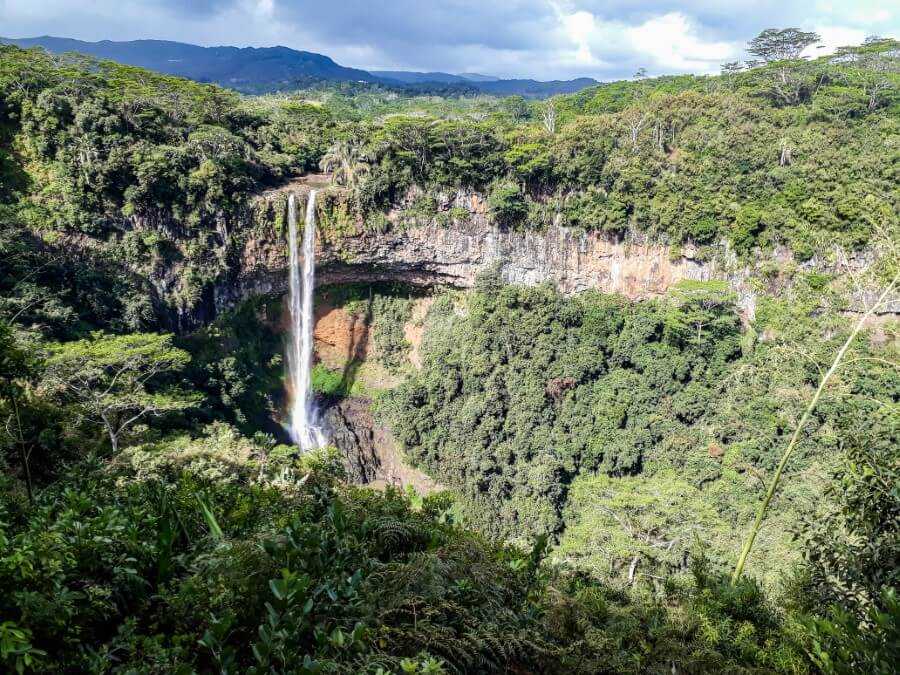 Seven Colored Earth
You'll find many things to do in Chamarel village but the main attraction here is the Seven Colored Earth Geopark. This small geopark features colorful sand dunes of red, brown, green, blue, violet, purple and yellow.
The best time to photograph the sand dunes is on a bright sunny day as the colors will look more vibrant.
The entrance fee to visit both Cahamrel Waterfall and Seven Colored Earth is Rs 500 (US$ 11.10) for adults and Rs 250 (US$ 5.55) for children (tourist price) and Rs 125 for adults and Rs 75 for children (Mauritian/resident price).
GET 10% OFF BY BOOKING YOUR ENTRANCE TICKETS HERE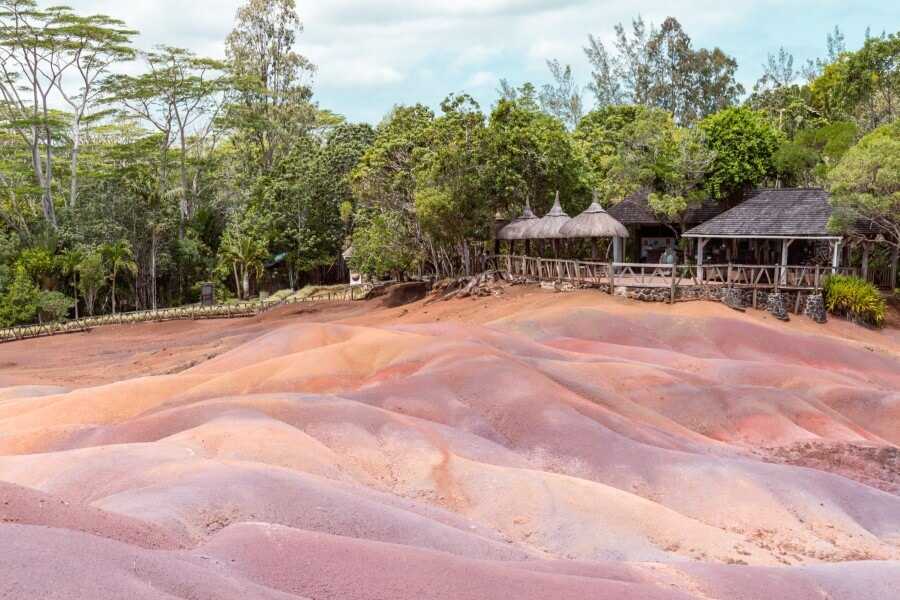 Gris Gris Beach
Another great place to take photos is Gris Gris Beach. Here you can find epic viewpoints overlooking the giant waves crashing against the cliffs, beach caves, rock pools, and even waterfalls.
You can refer to my guide to visiting Gris Gris Beach to find all the best photo spots.
I hope you found this guide to the best photography places in Mauritius helpful and don't forget that you can book this awesome Instagram tour of Mauritius Island to see all the best photo spots with a guide. As always, let me know in the comments below if you have any questions.