Pont Naturel in Mauritius is a natural rock formation that has been shaped into a bridge by the force of nature over several thousand years. The Pont Naturel Mauritius hike is a great attraction in Mauritius for those who love exploring dramatic landscapes while uncovering hidden spots along the way.
There are a couple of ways to get there but the most scenic one, in my opinion, is hiking from Le Bouchon Beach which provides incredible views over the southeast coastline of Mauritius.
Keep reading to know exactly how to hike to Pont Naturel in Mauritius!
WHERE IS PONT NATUREL MAURITIUS?
Pont Naturel is located in the southeast of Mauritius, just under 25 minutes from the SSR International Airport or 1.15 hours from Port Louis, the capital city of Mauritius.  
By Motorbike
Motorbike rentals start from Rs 600 (US$ 16.20), although I would advise that you avoid covering long distances since almost half of the accidents in Mauritius involve two-wheel rides.
By Car
Alternatively, you can rent a car for about Rs 1000 (US$ 26.95) per day. This will allow for a much enjoyable and safer ride. Gas in Mauritius cost Rs 44 (US$1.20) per liter.
By Bus
If you're on a budget, you can take the bus which will set you back only Rs 34 (US$ 1) for the longest journey. 
Read more: Hiking guide to Le Pouce, the third tallest mountain in Mauritius
PONT NATUREL HIKING TRAIL
The hiking trail actually starts from Le Bouchon Beach. Parking is free and if you're hungry there are a few stalls selling food and fresh fruits.
Follow the trail on the right side of the beach in the direction of the forest. After about a 10 to 15 minutes' walk, you'll reach an intersection at a sugar cane field. Then, take the left and continue along the path and you'll see a big gate with the "Ilot Brocus" sign.
Don't go into Ilot Brocus since you need an authorization to visit, instead keep following the trail for about 100 meters until you see a pile of stones on the left. Jump over and walk along the trail in between the mangroves which eventually opens up to the ocean.
Spend some time here to admire the strong waves crashing against the shore but do take caution and avoid venturing too close to the edge.
Now follow the path on the right by the stone wall and you will get to Pont Naturel in less than five minutes!
WHAT TO EXPECT AT PONT NATUREL MAURITIUS?
The water here is usually very rough, creating strong waves that break against the natural bridge, similar to a blowhole. Since the waves can go up to two meters, it's NOT a swimmable spot!
You'll be better off wearing good hiking shoes as the rocks are very sharp in this area. For an adrenaline rush, you can walk along the bridge but make sure to watch out for the waves and avoid going if it's too windy.
Read more: Hiking Le Morne Brabant in Mauritius
OTHER ATTRACTIONS NEAR PONT NATUREL
Le Bouchon Beach
You can head back to Le Bouchon Beach which is a nice spot for swimming or just relaxing.
Related post: 20 must-see beaches in Mauritius
Le Souffleur
Located only about 30 minutes away, Le Souffleur is a must-stop while road-tripping in the south of Mauritius! This area attracts tourists mainly due to the spectacular blowhole. There's also a little hiking trail that leads to one of the most secret beaches in Mauritius!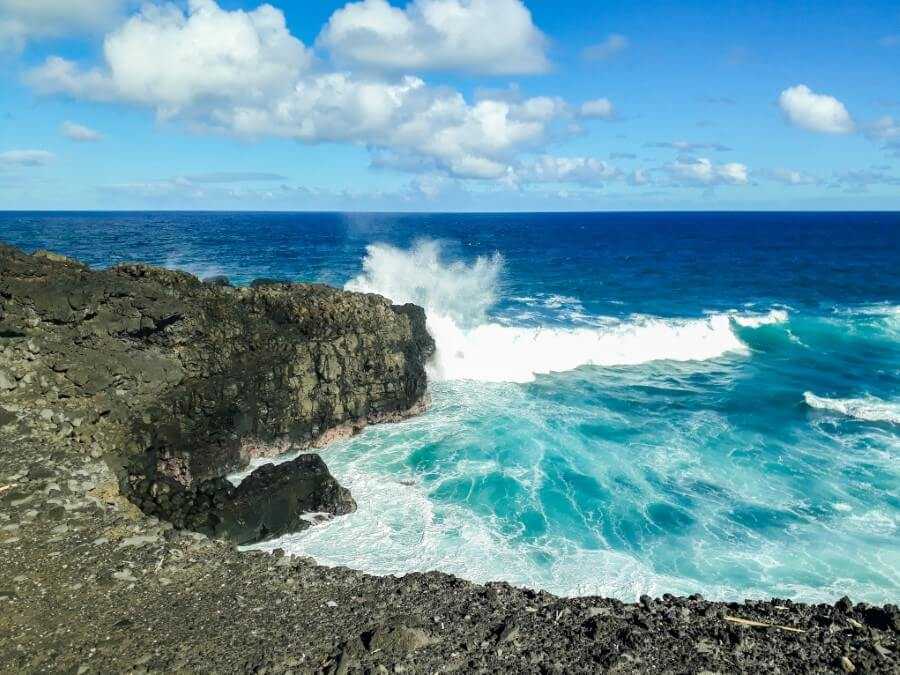 Related post: How to get to Le Souffleur?
Gris Gris Beach
Located about 45 minutes away, Gris Gris Beach is another cool spot to admire strong waves crashing against the cliffsides. There's also a nature trail that leads to "La Roche Qui Pleure" and three waterfalls, two of them flowing directly into the ocean!  
Related post: Gris Gris Mauritius – Viewpoints and secret waterfalls
Mauritius Seven Pyramids
Although they can't compare to those of Egypt, the Pyramids in Mauritius deserve a spot in your Mauritius itinerary. The French researcher, Antoine Gigal even studied these pyramids which look quite similar to those on Tenerife Island.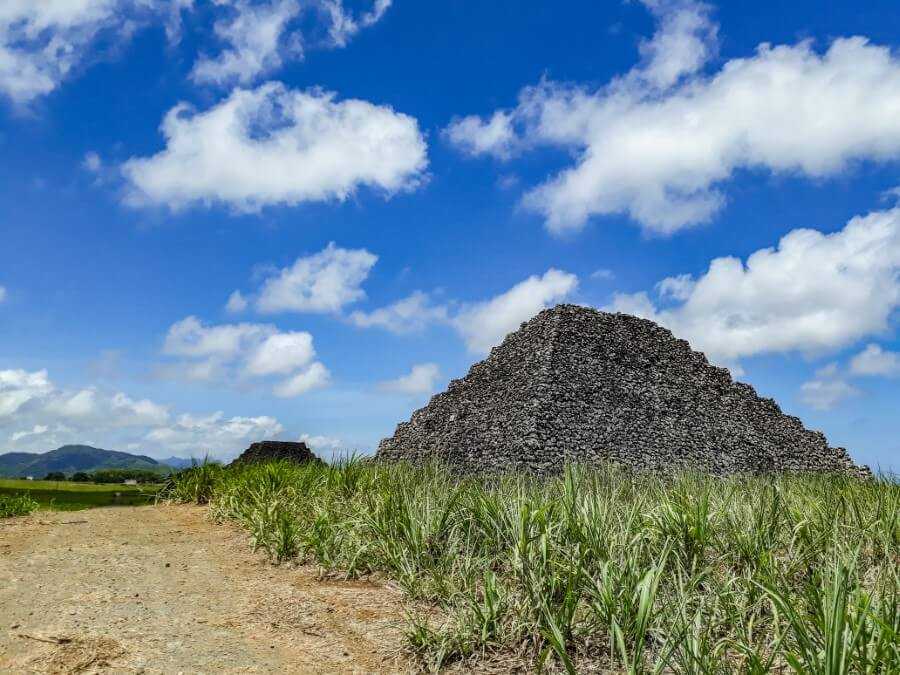 Need some help to plan the perfect trip to Mauritius? Download your free Mauritius Itinerary e-book that's perfect for all types of travelers! All you need to do is to sign up below!
More hikes in Mauritius:
Need more help to plan your trip to Mauritius? Check out these posts:
LIKED THIS POST? PIN IT FOR LATER!