Are you looking for the most unique things to do in Mauritius? This guide will give you all the info you need to scout out the most unique and breathtaking landscapes in Mauritius!
Since I've spent my whole life in Mauritius, I've been able to explore every corner of this small paradise island. So, today I'm sharing my insider tips to help you plan a trip to Mauritius and show you all the underrated places to visit in Mauritius!
From white-sand beaches to lush mountains and forest, stunning waterfalls, and colorful street arts, there is an abundance of unique places to visit! 
Keep reading for a list of 39 best things to do in Mauritius, places to visit, tips on how to get around, the best time to visit, and the best places to stay!
***This article may contain affiliate links, which means that each time you click through and make a purchase, I may earn a small commission at no extra cost to you.
What to do in Mauritius to get off the beaten track?
Visit Eau Bleue Waterfall
Located in the village of Cluny, visiting Eau Bleue waterfall is one of the most underrated things to do in Mauritius Island. Eau Bleue is actually made up of six waterfalls and despite being incredibly beautiful, Eau Bleue is almost never crowded. So, if you want to swim in the clearest water without the hordes of tourists, Eau Bleue is the place for you!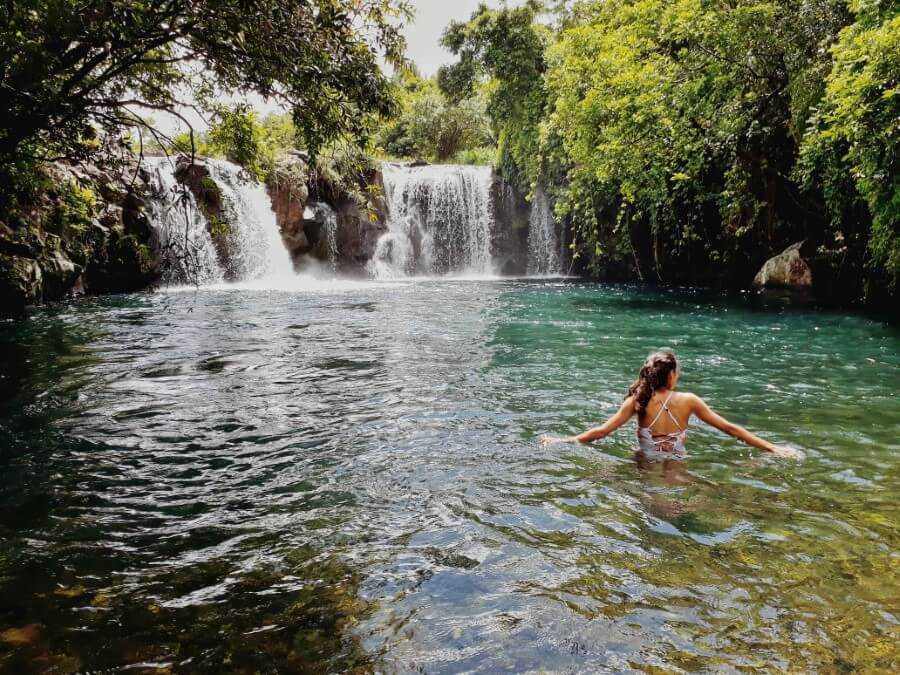 Related post: How to visit Eau Bleue Waterfall + Map
Scenic hike to Pont Naturel
If you love exploring the outdoors and are looking for a unique thing to do in Mauritius, make sure to add Pont Naturel to your list! Pont Naturel is a natural rock formation that has been shaped into a bridge by the force of nature over several thousand years.  
The best and most scenic way to get there is to hike from Le Bouchon beach which will take you through sugarcane fields, mangroves and along a rugged coastline.
Related post: Hiking guide to Pont Naturel in Mauritius
Hike to Tamarind Falls (7 Cascades)
The Tamarind Falls (also known as Tamarin Falls or 7 Cascades) is a series of 12 waterfalls, seven of which are much bigger. The waterfalls are located in the village of Henrietta and are among the most popular attractions in Mauritius. 
From the Henrietta bus terminal, drive straight ahead until you see a Hindu temple and cemetery further away on your left. You can just leave your car here on the side of the road.
The start of the trail is found on the right. Follow the path between the sugarcane fields until you reach an intersection. Take the left here until you arrive at another intersection. Turn left and follow the trail downhill leading to the first waterfall.
If you're not an experienced hiker, I highly recommend hiring a local guide as it's easy to get lost and some parts are very steep and can be dangerous. The price for a guided hike starts from Rs 1,500 per group.
Book your hike to Tamarind Falls here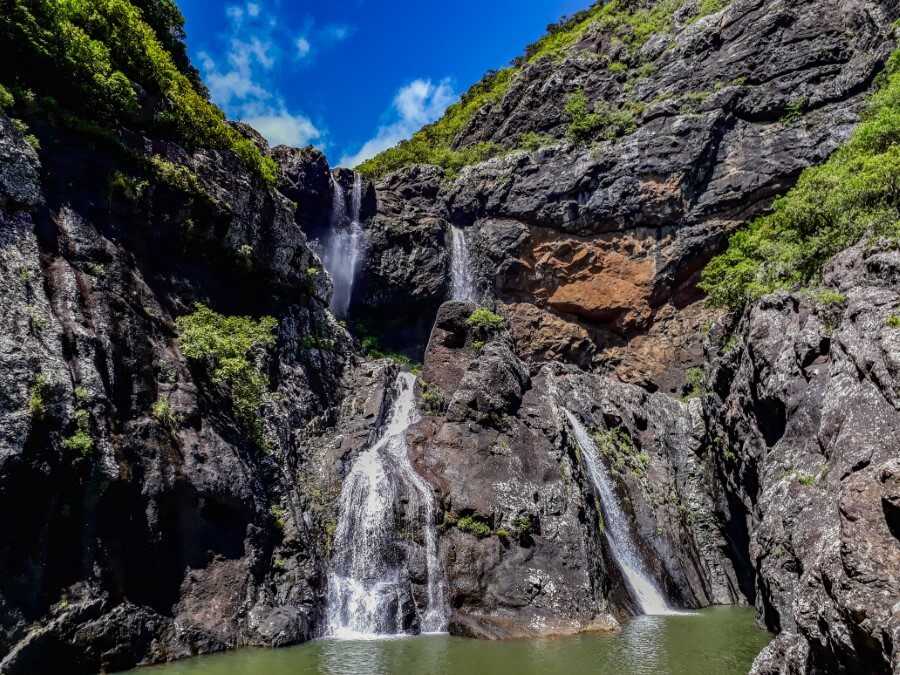 Related post: How to visit Tamarind Falls without a guide?
Shop and dine at the Caudan Waterfront
The Caudan Waterfront is found in Port Louis, the capital city of Mauritius. It consists of luxury and affordable shopping malls, a craft market, casino, two hotels and food courts, all built on reclaimed land!
If you want to sample some local food, head to the "Pat et Rosy Galettes de Manioc" stall which is found a few meters from the casino. They sell all sorts of food made from cassava such as cakes, rotis and more. They usually open around 11 a.m and get pretty busy during lunchtime.
From the views over the harbor to the colorful umbrellas and street arts near the Mauritius Postal Museum, Caudan Waterfront is a great place to visit in Mauritius.
Free parking is available on Saturdays from 12.30 p.m and during the whole day on Sundays and public holidays. During the week, parking costs Rs 50 (US$ 1.40) for the first 4 hours and Rs 50 (US$ 1.40) for each additional hour.
If you're traveling Mauritius on a low budget, the bus station is found on the opposite side of the road. You can then take the underground pathway to get to the Caudan Waterfront which is about a 10 to 15 minutes' walk.  
Related post: Budget guide to Mauritius Island
Hunt for Street Arts in Port Louis
Did you know that the city of Port Louis has over 60 street arts thanks to the "Porlwi by Light" festival and the New Chinatown Foundation? Street art hunting has quickly become one of the most unique things to do in Mauritius!
From Chinese-inspired murals to abstract arts, most of them can be found in Chinatown and Bourbon street. So, get your camera ready and go on a street art hunt!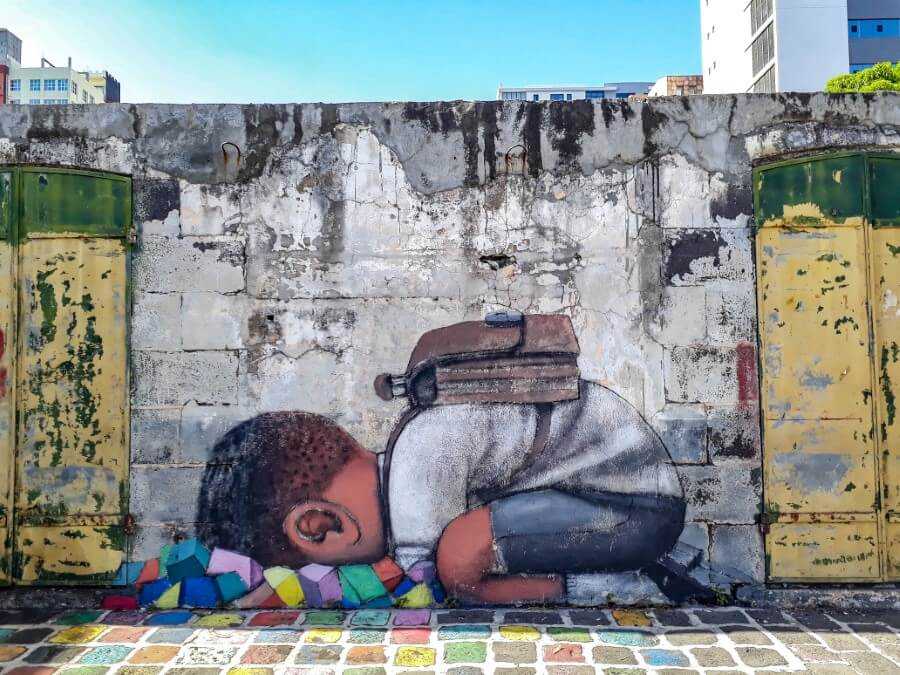 Related post: Mauritius Street Art Guide + Map
Experience the Port Louis Central Market
If you're wondering what to do in Port Louis, why not visit the Central Market? This is where you'll find a wide selection of local fruits and vegetables, souvenirs, handicrafts, clothes and spices all under one roof.
Near the entrance, you'll find a small section on your left selling local food such as "Dholl Puri", "Ti Puri" and "Roti" as well as some souvenirs and handicraft stalls. On your right is the food court section which goes all the way to the fruit and vegetable stalls.
You'll also find a craft market on the first floor. Keep in mind that since it's a tourist market, prices will be much higher, so make sure to bargain.
The market is open every day from 5.30 a.m to 5.30 p.m except on Sundays when it closes at around 12 p.m.
Tip: Book a street food tour to taste some of the best street food at the market and all over Port Louis!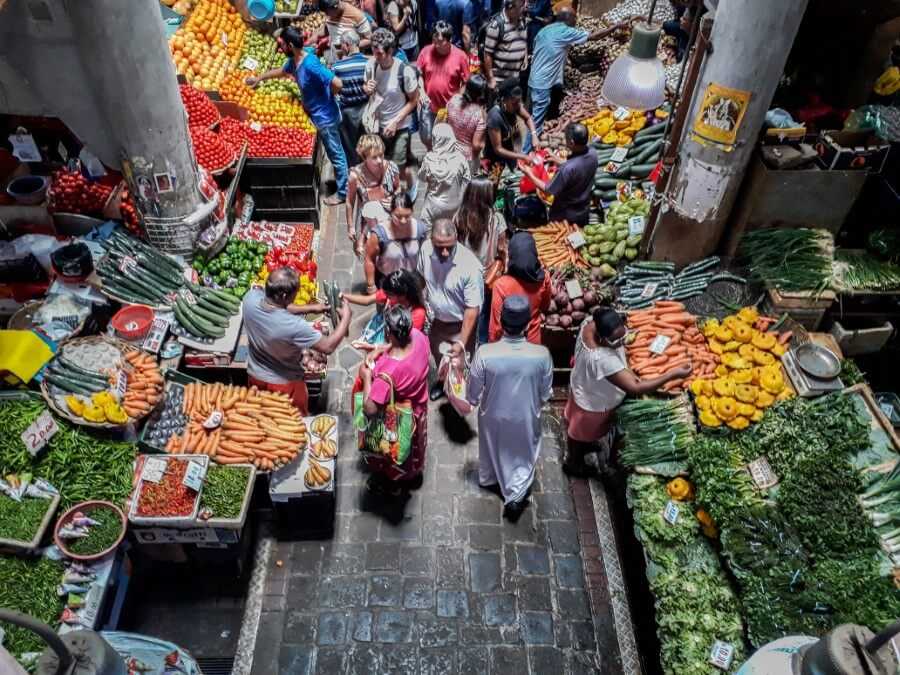 Related post: 20 unique things to do in Port Louis
Indulge in street food
One simply cannot travel to Mauritius without sampling the local cuisine. With Port Louis being one of the most notable street food hubs in Mauritius, you'll find a whole range of delicious food to eat such as Briani, Dholl Puri, Faratha, Gateaux Piments and more.
Blending flavors from Africa, India, China and Europe, the food in Mauritius is so delicious and cheap. Just order two pairs of Dholl Puri and you'll have a hearty lunch for less than US$ 1!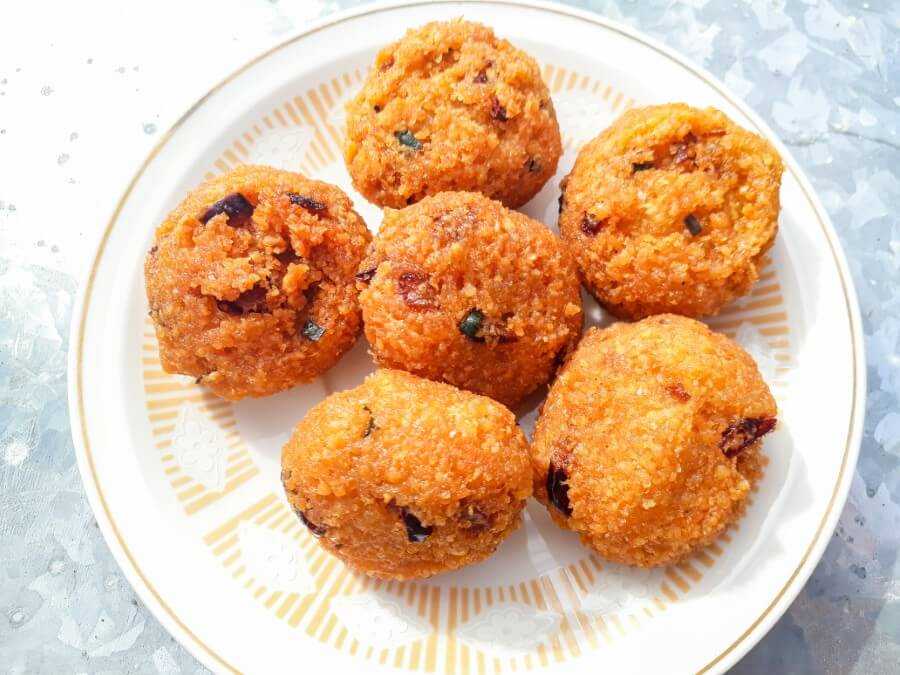 Related post: Ultimate Mauritius street food guide
Visit Ile aux Aigrettes
Located in the bay of Mahebourg, Ile aux Aigrettes is a small nature reserve home to several endangered species of plants and animals and also one of the top places to visit in Mauritius! You can book a guided tour to explore the island or a sunset cruise tour to swim and snorkel on the island. 
Book your guided tour of Ile aux Aigrettes here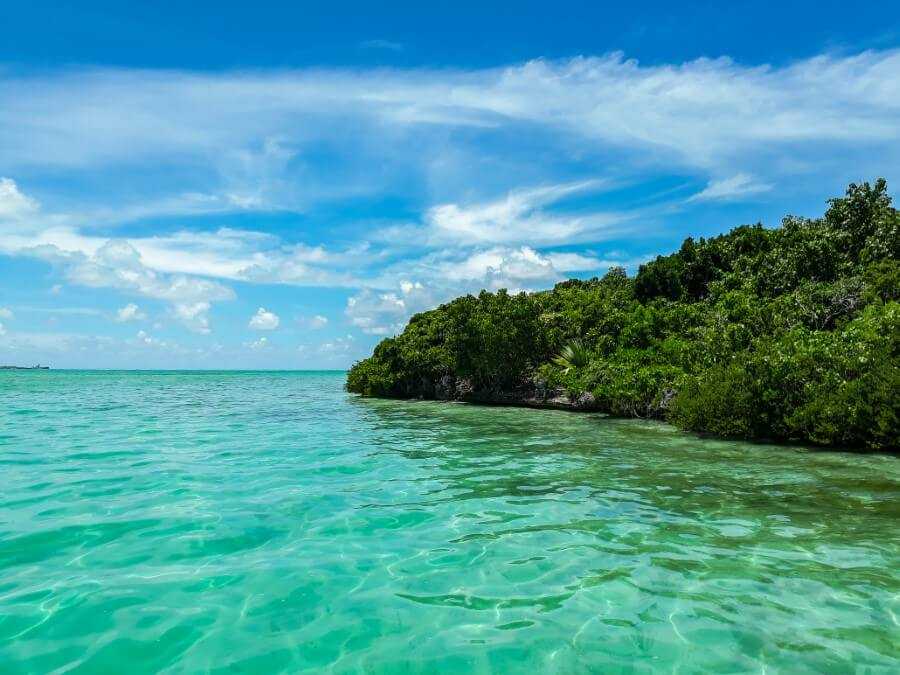 Le Souffleur and Savinia Beach
One of the most non-touristy things to do in Mauritius is, without a doubt, visiting Le Souffleur and Savinia Beach.
At Le Souffleur you'll witness one of the most spectacular blowholes in Mauritius! You'll rarely find a huge crowd there, most probably because the road leading to this spot is pretty rough but the view is so worth it!
And if you decide to explore a little further away, you'll find Savinia Beach, which is by far the most secret beach on the island. I didn't even know about it until this year and I'm so glad I got to visit. It's the perfect place to relax without the hordes of tourists!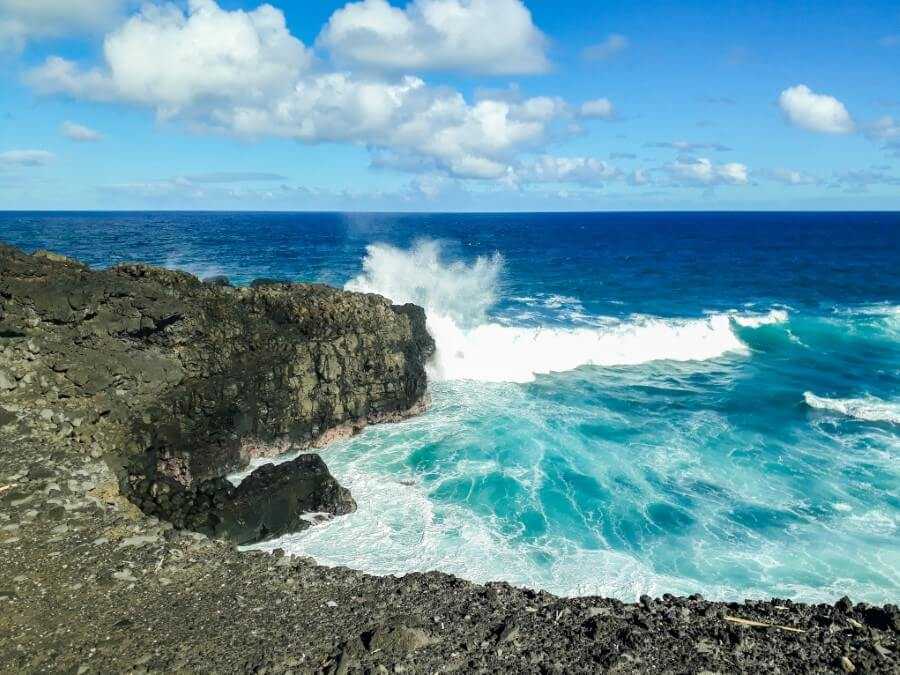 Related post: Le Souffleur travel guide
Visit Notre Dame Auxiliatrice Chapel
Notre Dame Auxiliatrice is a small red-colored roof chapel set against the white-sand beach of Cap Malheureux. It's one of the most beautiful places to visit in Mauritius especially during sunset and a popular photo spot among newly-weds.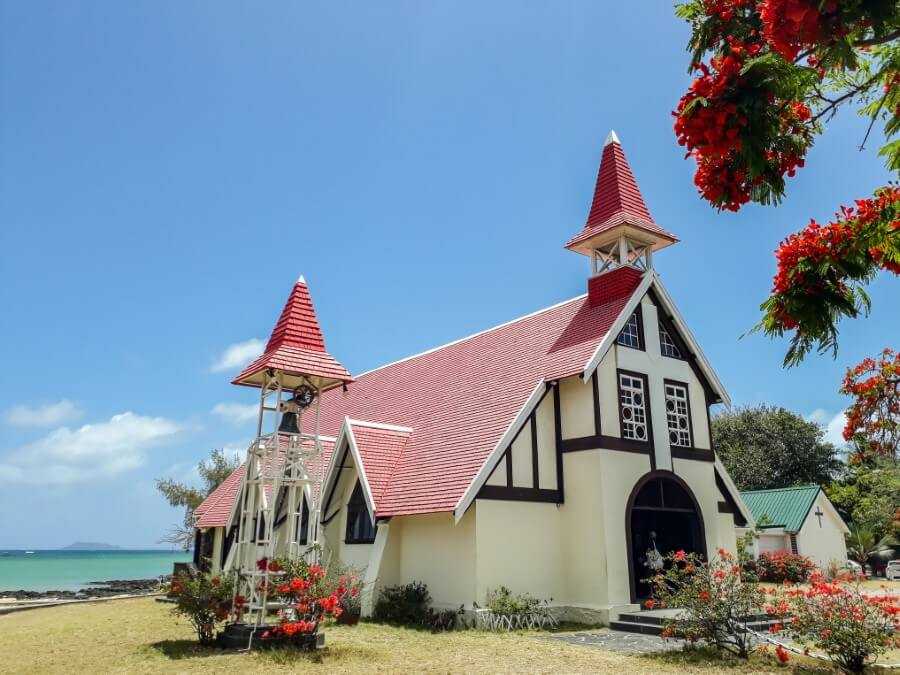 Explore hidden spots at Gris Gris Beach
Gris Gris beach is a gorgeous beach perfect for watching the strong waves crash against the cliffs and without a doubt one of the best things to do in Mauritius! The currents here are too powerful, so swimming isn't advisable. You can instead walk along the coastline to explore the hiking trails leading to "La Roche Qui Pleure", beach caves, and three hidden waterfalls!  
Related post: Guide to visiting Gris Gris Mauritius
Stare in awe at Chamarel Waterfall
Chamarel waterfall is one of the tallest waterfalls in Mauritius, dropping at a height of 100 meters! To get there you'll have to pay an entrance fee of Rs 250 (US$ 6.90) including a visit to the Seven Colored Earth which is made up of colorful sand dunes (you can book your tickets to the Seven Colored Earth here).
You'll find two viewpoints here, one on the left side of the parking lot and the other one is found higher up by taking the stairs. If you're feeling adventurous, you can follow the trail which leads down to the waterfall.
Book your guided hike to Chamarel Waterfall here
Tip: If you bought tickets to the Ebony Forest (mentioned below) you can visit the waterfall for free!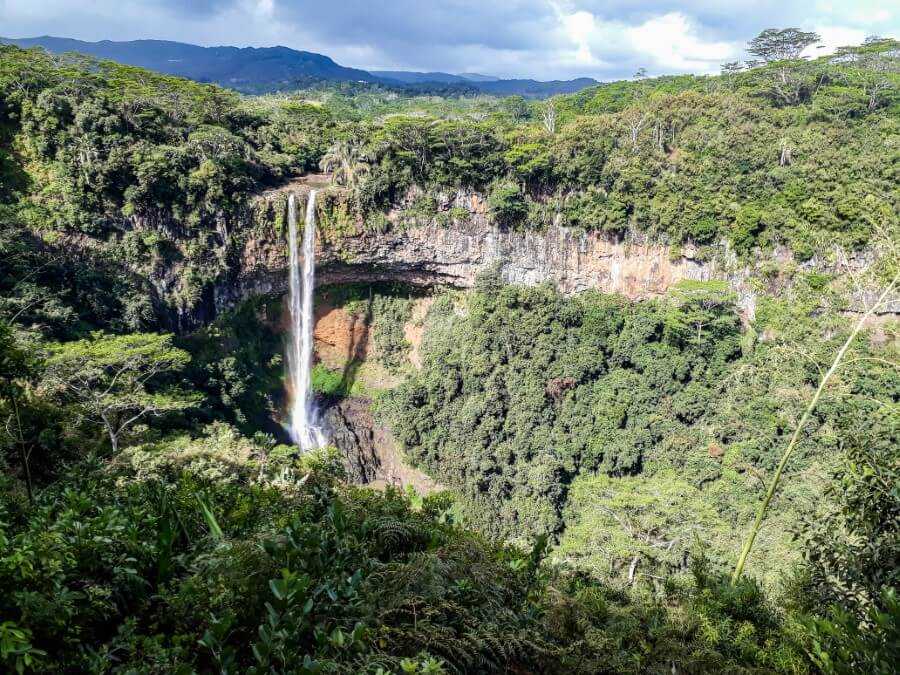 Climb up Le Morne Brabant Mountain
Le Morne Brabant is a UNESCO World Heritage Site and was previously used as a refuge for runaway slaves. Today it's one of the top hikes to do in Mauritius. The hiking trail is fairly easy with some rock scrambling towards the middle but you'll be rewarded with gorgeous views of the underwater waterfall, a unique phenomenon in Mauritius!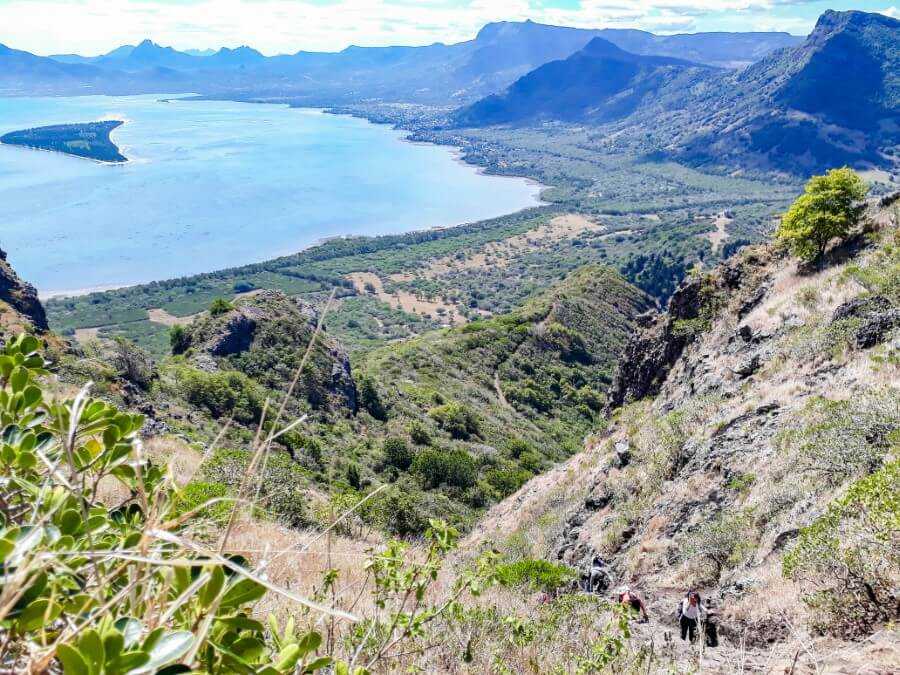 Tip: You can book this guided tour if you prefer not to hike on your own.
After the hike, head to Le Morne beach to cool off. The main beach is very busy during the weekend but you can go a bit further at the beach next to Hotel Riu Le Morne if you want to escape the crowds.
Related post: A detailed guide to visiting Le Morne Brabant
Day trip to Grand Bay
No list of things to do in Mauritius is complete without mentioning Grand Bay. Located in the North of Mauritius, Grand Bay is a major tourist hotspot thanks to its wide selection of beaches, resorts, shopping malls, restaurants, and nightclubs for those looking to party till dawn. 
For some beach time, you have the choice between the popular Grand Bay public beach, La Cuvette, Pereybere or the more remote Bain Boeuf beach which is found a little outside of the center but still worth a visit. Think white-sand beaches and stunning turquoise water, the postcard-perfect picture of Mauritius!
You can also take a catamaran cruise to visit the neighboring islands or try out the different water sport activities such as parasailing, scuba diving and snorkeling. 
Book your catamaran cruise including breakfast, lunch and drinks here
If you ever get sick of the beaches, head to La Croisette which is a large shopping mall featuring budget and luxury shops, a movie theatre, food court and supermarket or visit the local market/bazaar to bring home some souvenirs. 
If you travel for food, I recommend taking a food tour of Grand Bay to sample some delicious local dishes.
Visit the Albion Lighthouse
The Albion Lighthouse is located along the west coast of Mauritius and is a great spot for sunset watching. The red and white lighthouse stands at a height of 30 meters on top of the cliffs and is among the most popular photography locations in Mauritius.
Below the cliffs, you'll find caves and rock pools and you can also walk around the cliffs to enjoy the view.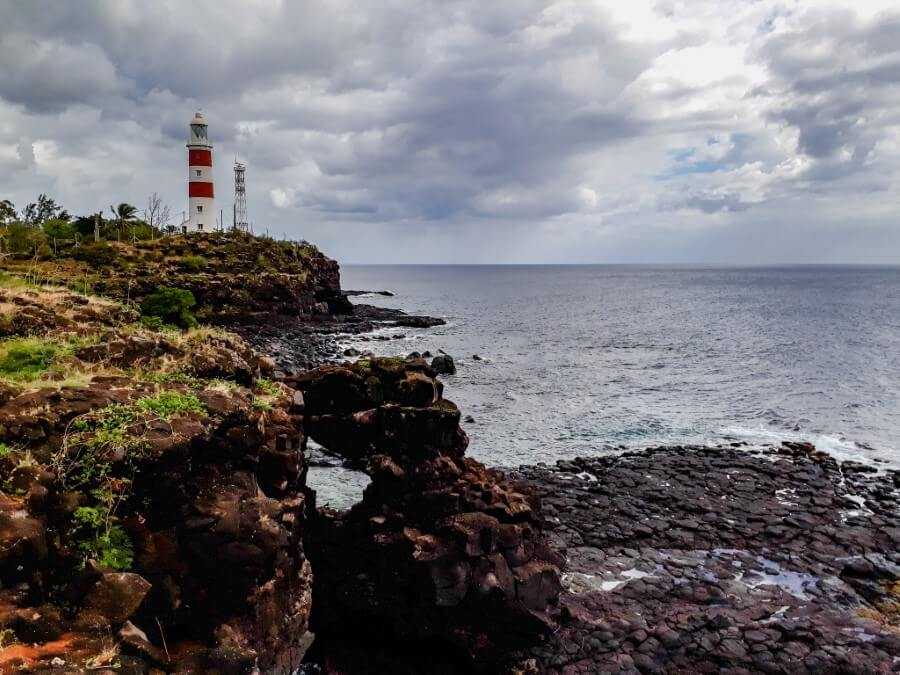 Admire the epic coastline at Macondé Point
If you're planning a road trip along the south coast of Mauritius make sure you add Macondé Point to your itinerary. Macondé Point, also known as Captain Matthew Flinders Monument, is located across a hairpin turn and offers incredible views over the Indian Ocean.  
The viewpoint is easily accessible through a narrow set of stairs but you have to be careful when going up as it's usually very windy. 
Explore the Pyramids of Mauritius
Although the pyramids in Mauritius are completely different from those in Egypt, they make for a nice photo backdrop! The pyramids are found in the south of Mauritius, only a few minutes from the airport. So, if you are staying in the area, there is no excuse to skip this Mauritius attraction!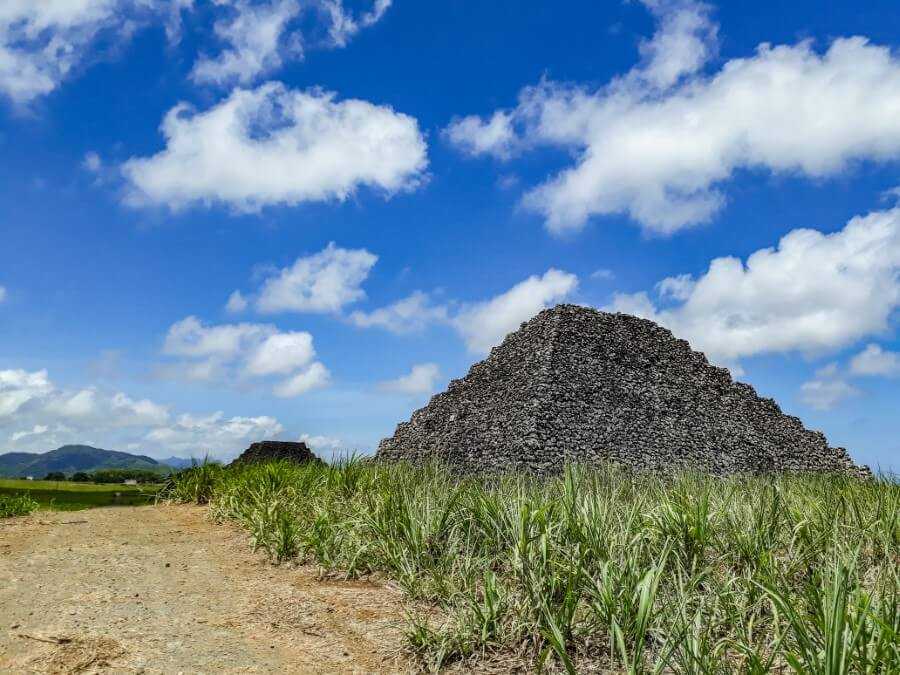 Ebony Forest
Ebony Forest is a nature reserve, located in the village of Chamarel. There are different hiking trails leading to panoramic views over Le Morne Brabant and Ile aux Bénitiers.
The entrance fee is Rs 450 (US$ 12.40) for adults and Rs 270 (US$ 7.40) for children. The fee includes a 30-minute guided tour along the Flycatcher walkway which is a suspended bridge that takes you around the forest and if you're lucky you may even spot some rare endemic birds.
Opening hours: 9 a.m to 5.30 p.m.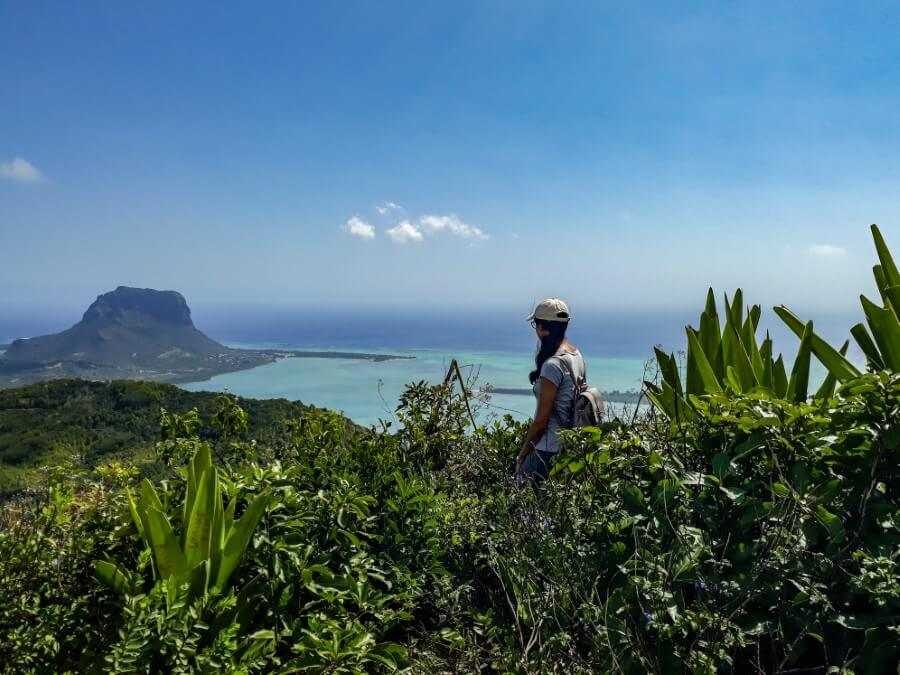 Explore the Eureka Waterfalls
Another thing to do on Mauritius Island is visiting the Eureka Waterfalls. Behind the Eureka House in Moka are four waterfalls all within a few minutes from each other. The trail is easy to follow and the entrance fee to visit the waterfalls is Rs 300 (US$ 8.60).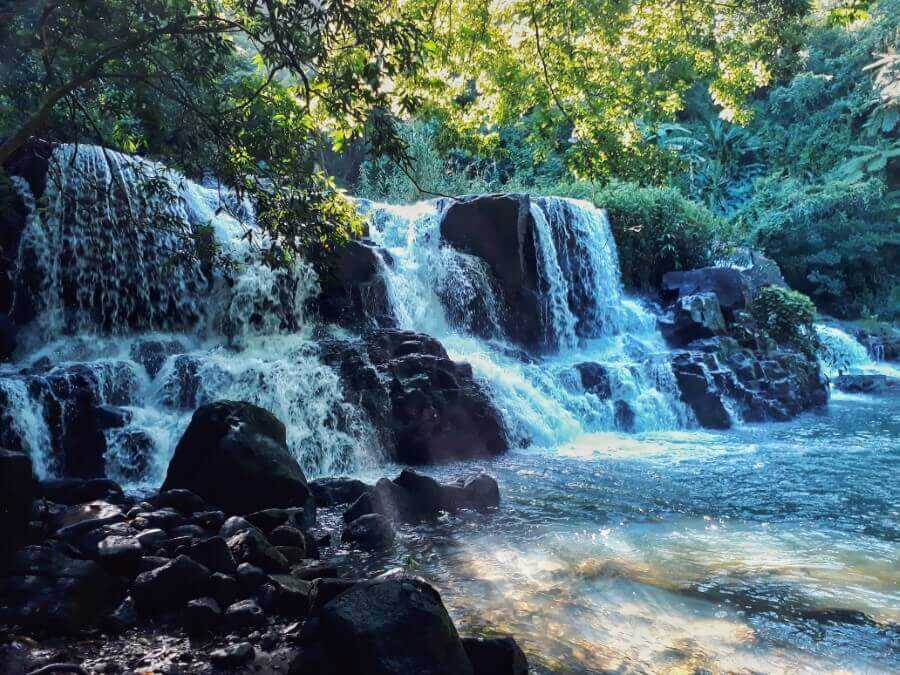 Related post: Guide to Eureka Waterfalls
Hike the Black River Gorges National Park
The Black River Gorges National Park is one of the most popular places to visit in Mauritius. The national park covers over 6,700 hectares of mountains and forests where you can spend the day hiking to several viewpoints and waterfalls.
The Black River Gorges is completely free to visit and there are different hiking trails available including the Mare aux Joncs and Savanne trail or the more challenging Parakeet trail. The national park is also home to two popular waterfalls – Cascade 500 Pieds and Alexandra Falls.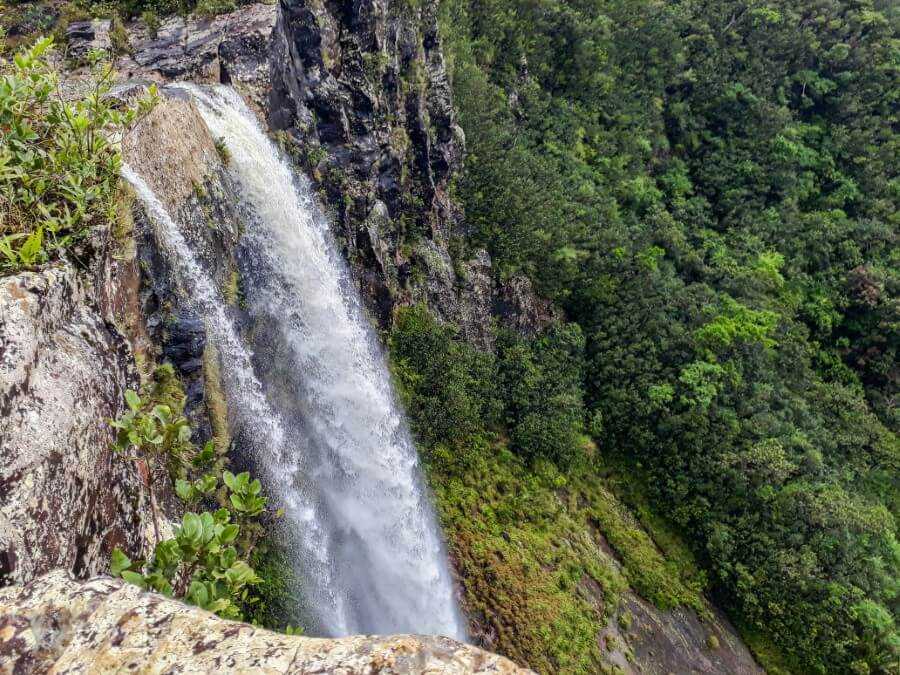 Related post: Cascade 500 Pieds hiking guide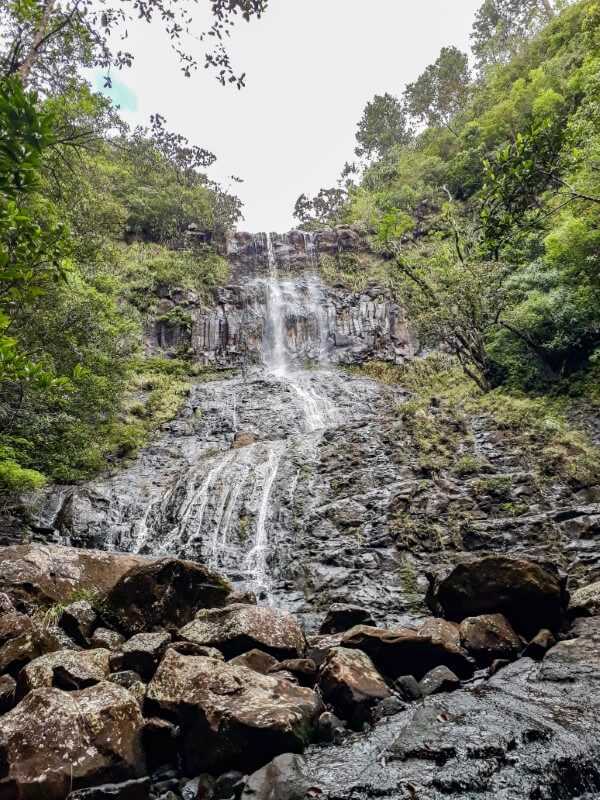 Related post: How to get to Alexandra Falls in Mauritius?
Most of the trails are well-marked but you can also use the maps.me app to help you navigate around the national park.
There are four main entrances to the Black River Gorges and the two information centers are located at Petrin and Black River.
Book your 3-hour guided hike of Black River Gorges here.
Related post: Complete Black River NP hiking guide
Ile aux Benitiers and Crystal Rock
Located on the west coast of Mauritius, the small island of Ile aux Benitier is one of the most unique places to visit in Mauritius. From strolling along the sandbank to snorkeling in the crystal-clear water or just lazing on the beach, you'll find plenty to do there. 
On your way to the island, make sure to stop at the Crystal Rock and for a swim and a chance to spot some colorful fish.
For a hassle-free day, I recommend booking a tour of Ile aux Benitier including snorkeling at the Crystal Rock and a BBQ lunch.
Book your tour of Ile aux Benitiers and Crystal Rock here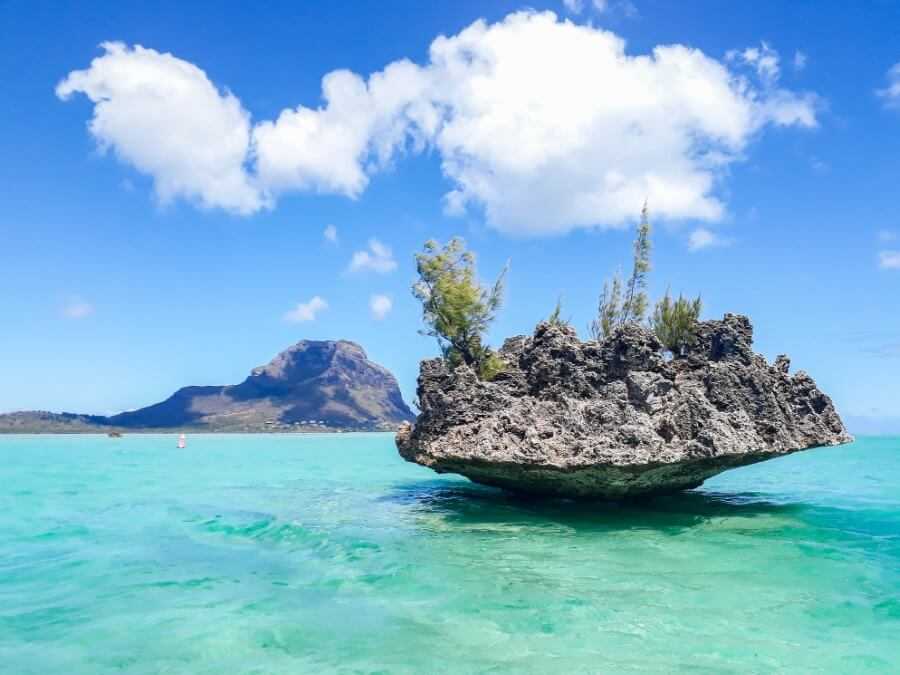 Plateau Remousse Viewpoint
Located in the Black River Gorges National Park, the Plateau Remousse trail leads to one of the most beautiful viewpoints in Mauritius! Those who brave the steep trail will be rewarded with stunning panoramic views of the lush green vegetation clinging to the mountains.
Although the path leading to the viewpoint is rather steep, it's still accessible to all fitness levels. You can start your hike from the Black River Visitor Center (west side) and make your way through the forest until you reach an intersection and a sign showing the way to Plateau Remousse.
From there, it's just a matter of following the signs until you reach the viewpoint. You can read my Mauritius hiking guide for more detailed directions.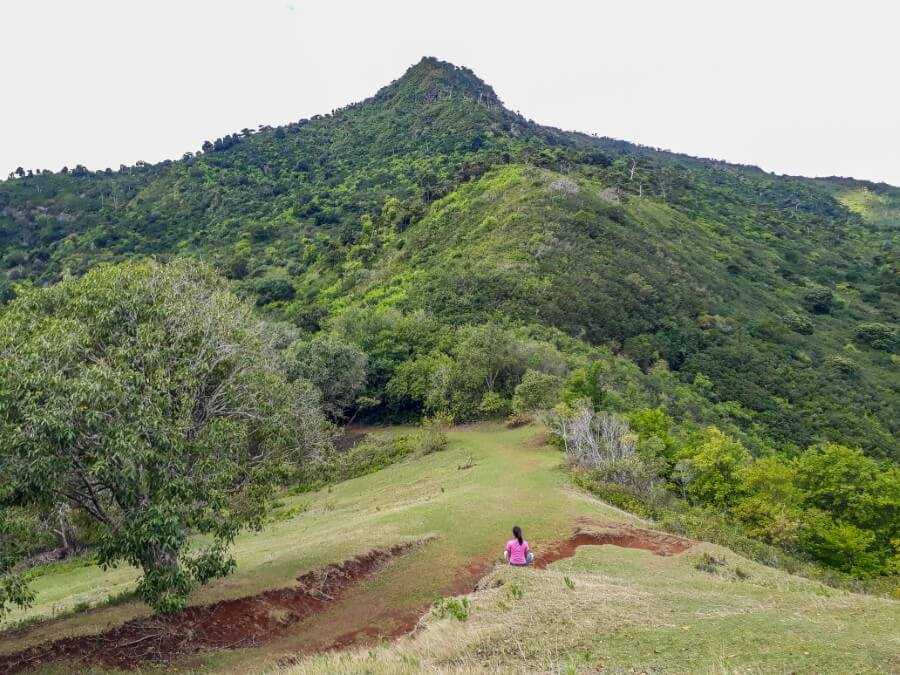 Related post: 21 best hiking trails in Mauritius
Relax and snorkel on Pointe D'Esny Beach
Pointe D'Esny is a small stretch of white-sand beach located on the southeast coast of Mauritius. Due to its remote location, the beach is usually not very crowded, making it one of my favorite beaches in Mauritius! Unfortunately, the beach doesn't have too many shady spots but the crystal-clear water should be enough reason to visit!
If you're coming from the Mahebourg Waterfront, drive along the Coastal Road for about five minutes until you see a sign saying "Pedestrian access to the beach".
Since there isn't any parking lot, you'll have to leave your car alongside the road and follow the narrow path which leads to the beach.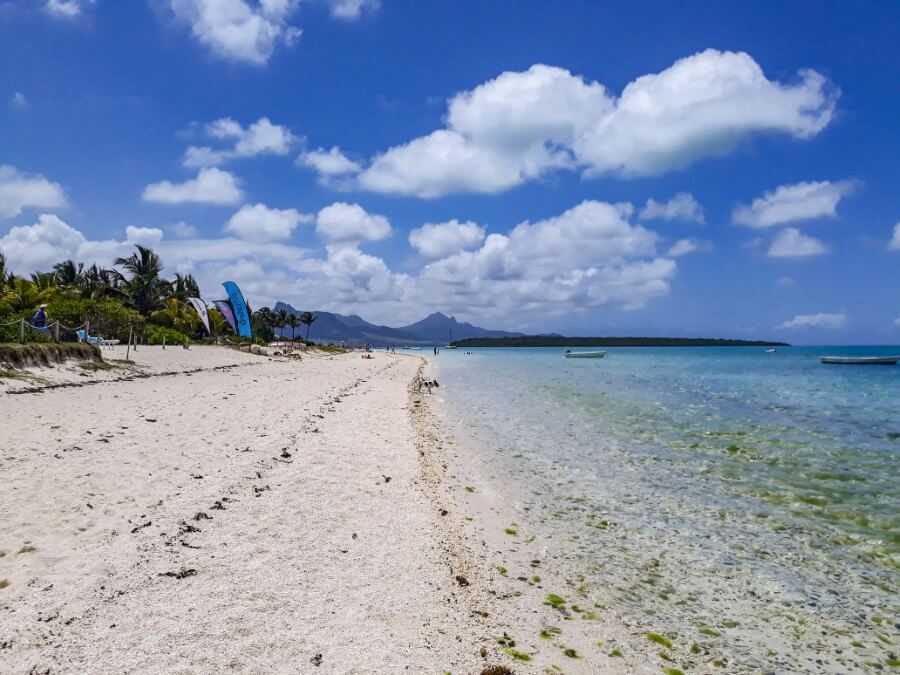 Related post: 25 Incredible beaches in Mauritius
Bras D'Eau National Park
A less popular alternative to the Black River Gorges, Bras D'Eau National Park covers an area of over 490 hectares and is one of the most underrated things to do in Mauritius.
You can start your hike from the visitor's center or if you're coming from Bras D'Eau Beach, walk along the road and take the little dirt road on your right just before the road bends towards the left (click here for the exact location).
Keep walking until you see a huge stone building which was probably an old sugar mill. Walk for a few meters and then turn right until you reach a sign pointing to the "Coq de Bois" trail and "Mare Chevrette".
Unfortunately, the trail can be confusing so I recommend using google maps or maps.me to get a rough idea of where you're going.
Vallée de Ferney
The Vallée de Ferney is a forest and wildlife reserve located in the southeast of Mauritius, near Mahebourg. You can hike around the valley on your own or hire a guide for a small fee. The path is well-marked so you can easily follow the trail and admire the indigenous plant species and rare birds.
Vallée de Ferney is open every day from 9 a.m to 5 p.m and the entrance fee is Rs 200 (US$ 5.50).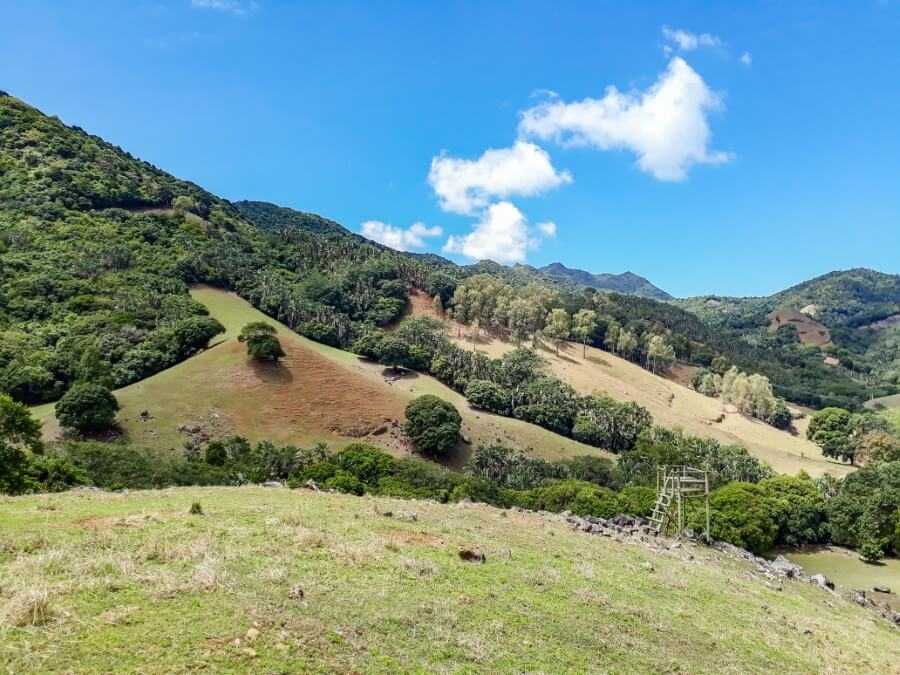 Island hopping to Ile de la Passe
This is where the British and French fought for Mauritius Island back in the 1800s. There are only a few ruins left on Ile de la Passe and it's a popular stop on the Mauritius south islands hopping tours.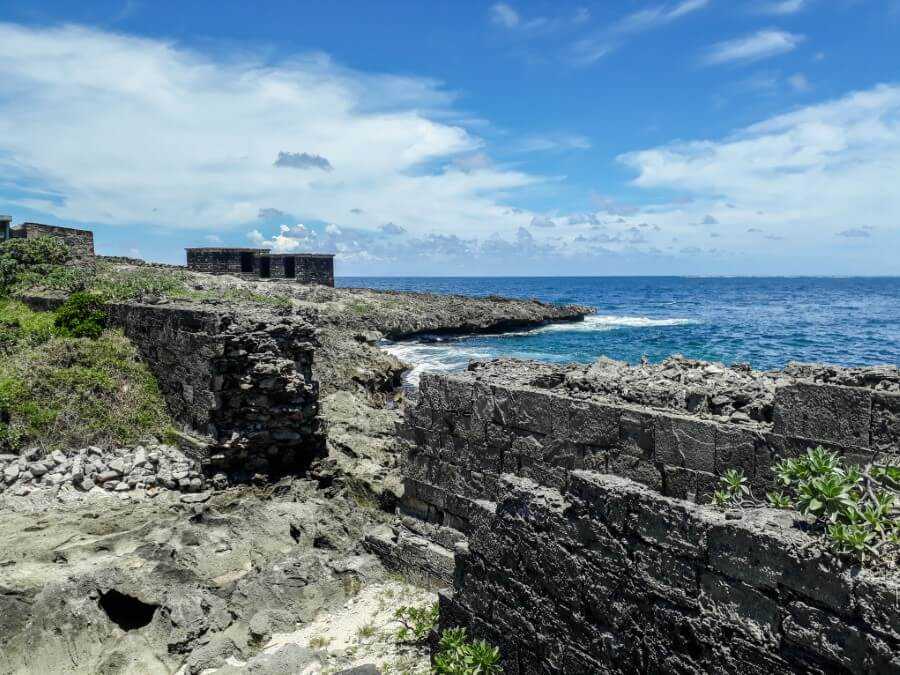 Visit Ile Au Phare (Ile aux Fouquets National Park)
Ile au Phare is a small island located not too far from Ile de la Passe. This island features a lighthouse that was built in 1864. Unfortunately, the stairs leading up the lighthouse are not well maintained but you can still enjoy the view and relax in the shallow water.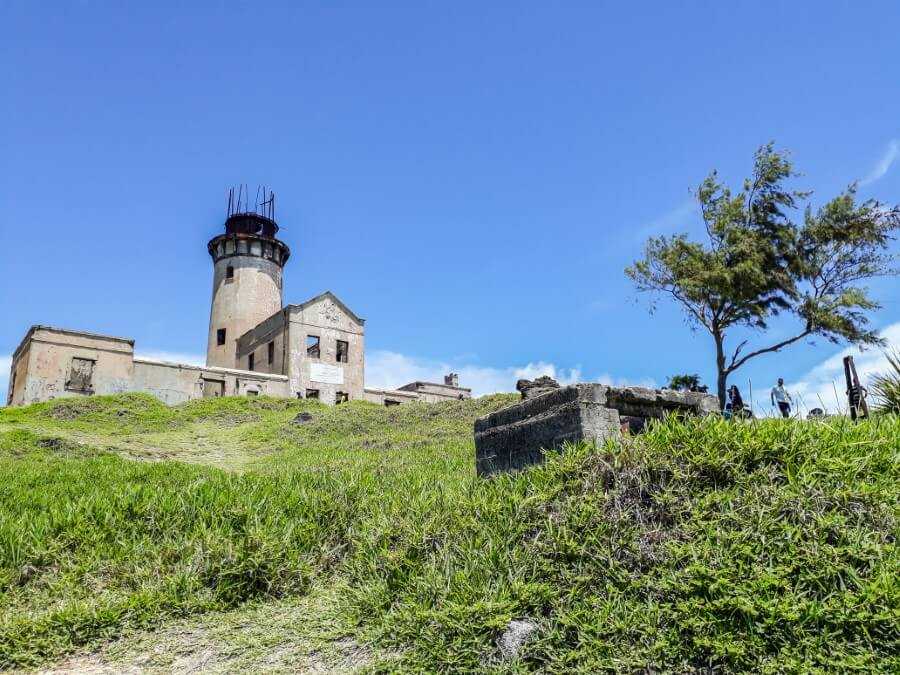 Hike up Le Pouce Mountain
Shaped like a thumb, the peak of Le Pouce Mountain provides a 360-degree view all over Mauritius Island. Located in the village of Petit Verger, Saint Pierre, the hiking trail is quite easy, making it perfect for all fitness levels.
Find the trailhead location here.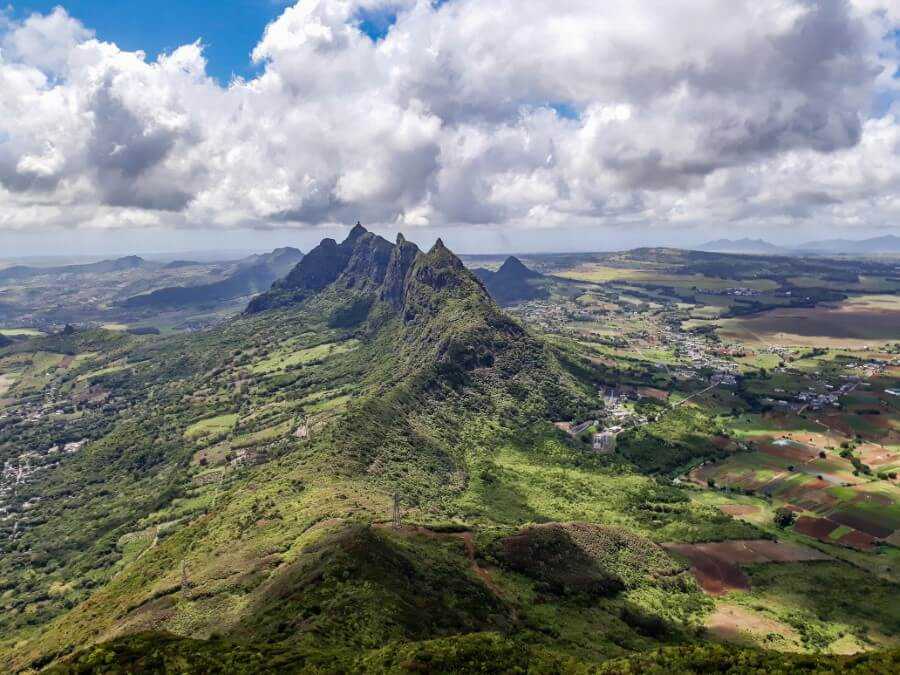 Related post: Complete guide to hiking Le Pouce Mountain
Visit the SSR Botanic Garden Pamplemousses
Another top thing to do in Mauritius is visiting the SSR Botanic Garden (Pamplemousses Garden). Famous for its giant Water Lilies, the garden is great for a quick nature stroll under the shade. There are also several walkways lined with rows of palm trees that make for a great photo backdrop.
The SSR Botanic garden is open daily from 8.30 a.m to 5.30 p.m, including public holidays. The entrance fee is Rs 200 (US$ 5.50) and free for kids under 5 years old.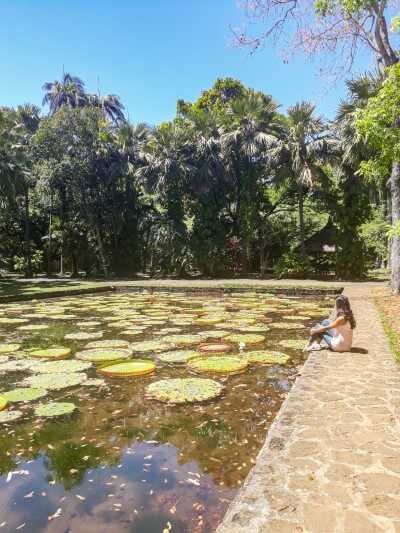 Hike up Corps de Garde Mountain
A great spot for nature lovers, Corps de Garde mountain stands at a height of 720 meters and is located in Stanley, Rose Hill. The hike isn't too challenging but since the path isn't covered by trees, an early start is advisable before it starts to heat up.
Find the trailhead location here.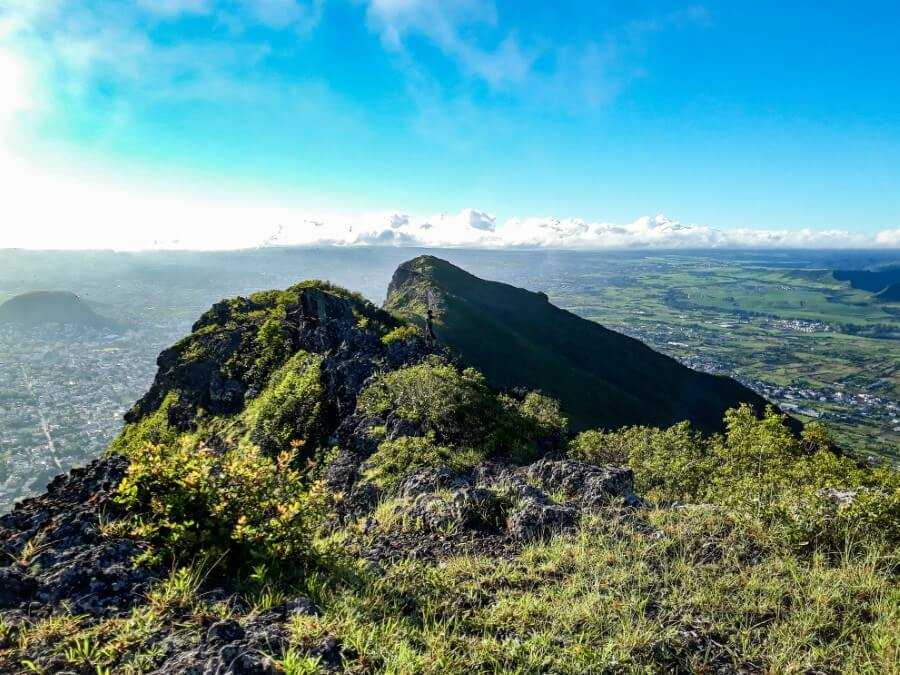 Visit the Chateau de Labourdonnais
Built in 1856, the Chateau de Labourdonnais is a beautiful colonial mansion that has now been converted into a museum. Located in Mapou, less than 25 minutes from Port Louis, the building looks quite impressive from the outside surrounded by its numerous gardens.
You can visit the mansion by taking a self-guided tour for Rs 400 (US$ 11.20) for adults and Rs 250 (US$ 7) and for children which includes a complimentary tasting session of several types of locally-made rums and fruit juices.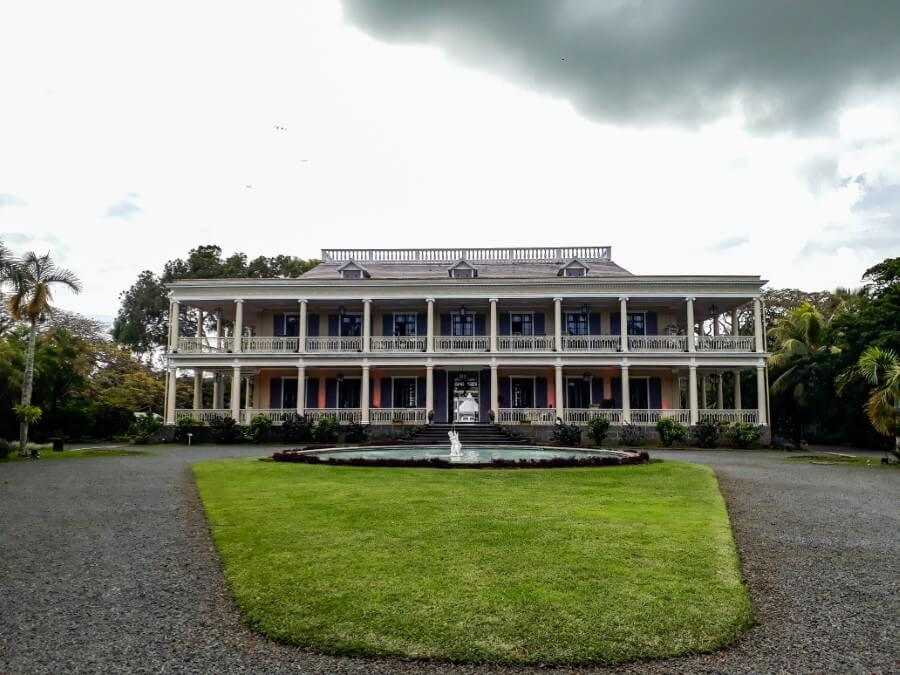 Azuri Village
Located in the north of Mauritius, the Azuri village is home to luxury boutiques and apartments and the Radisson Blu Azuri Resort & Spa. If you're not staying at the resort, you can explore the area for free during the annual Christmas market which usually happens during the first or second week of December.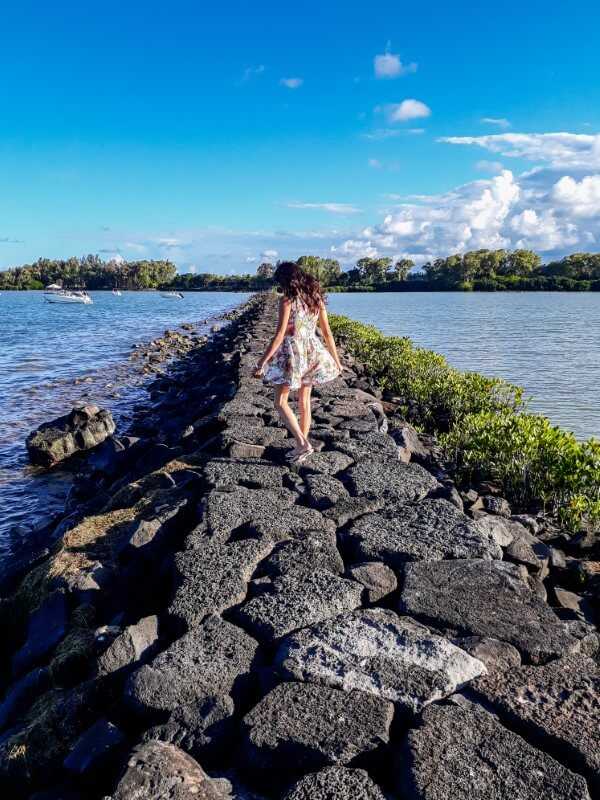 Telfair Garden (Souillac Beach)
Telfair garden is located by the beach of Souillac and is among the most picturesque locations to visit in Mauritius. Take a stroll along the beach to watch the waves and witness the fishermen at work or have a little picnic on the beach.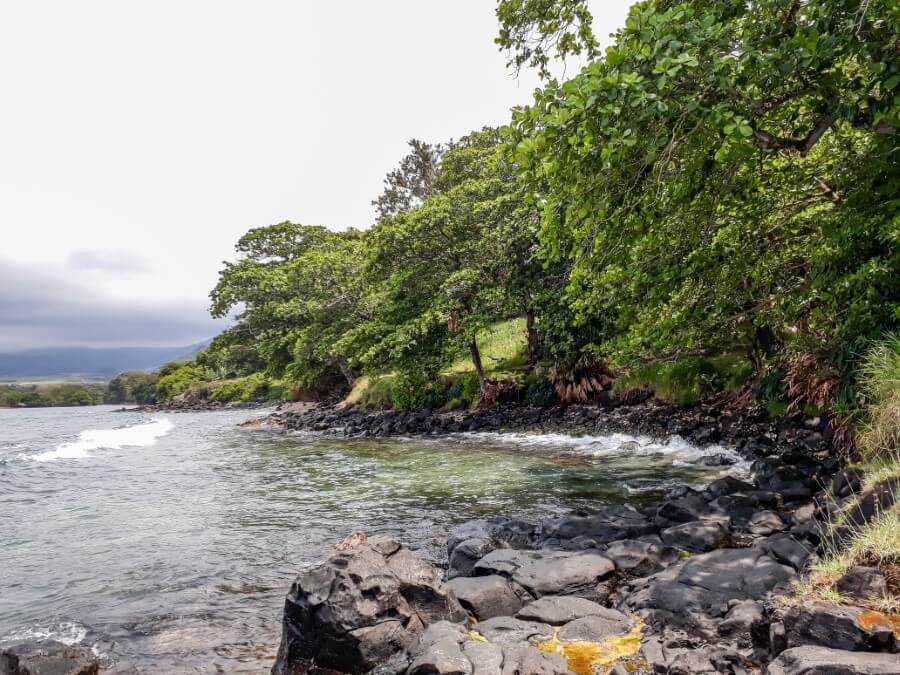 Watch the sunset on Signal Mountain
If you're not up for a hike but rather prefer an easy walk to witness the sunset over Port Louis, Signal Mountain is right up your alley! The path is easy to follow and it takes less than one hour to climb all the way up.
Swim in the Rochester Falls
Being one of the most spectacular waterfalls in Mauritius, visiting the Rochester Falls is a must! The waterfall is accessible through a dirt road from Souillac and does not involve any strenuous hike.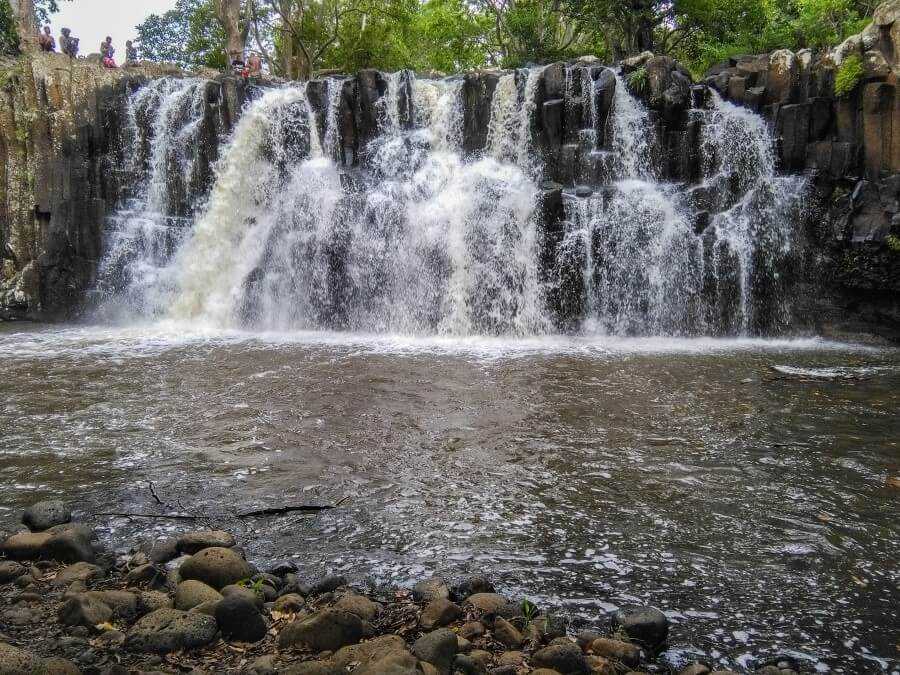 Have an adventure-filled day at Casela World of Adventures
The Casela World of Adventure is an adventure park/zoo located in the west of Mauritius and a great thing to do for families. 
Those who seek a dose of adrenaline can choose any activity on the Thrill Mountain package (for an additional fee), from zip-lining to bungee jumping to walking on the Nepalese bridge while taking in the view of the mountains and forest!
You can also do a safari to spot various animals such as zebras, giraffes, ostriches and more roaming freely or just take a stroll around the park.
The best time to visit is during the week when it's not too crowded. The park is open every day from 9 a.m to 5 p.m and entrance costs Rs 600 (US$15.20) for adults and Rs 480 (US$ 12.15) for children (non-resident fee).
Tip: You can book your entrance ticket to Casela World of Adventure here which includes hotel pick-up and drop-off.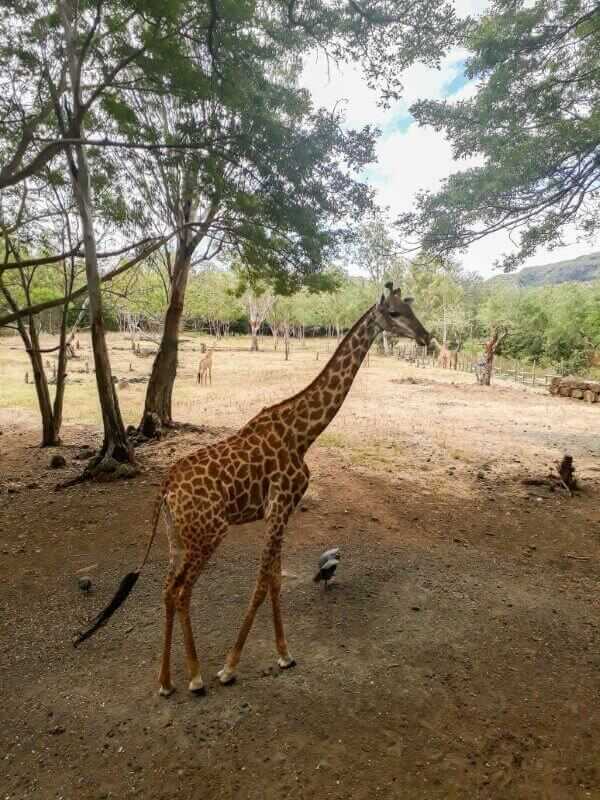 La Vallée des Couleurs
La Vallée des Couleurs is a nature park famous for its 23 colored earth, waterfalls and wide range of outdoor activities including zipline, Nepalese bridge, quad biking and more.
During my visit, I opted for the waterfall zipline. It was short but quite thrilling to zipline over the river and straight to the top of a waterfall! I also visited the 23 colored earth and geology tunnel before ending with a little hike to the waterfalls.
I found that 2 hours was enough to visit the main attractions but if you prefer to do more activities, you could easily spend the whole day there.
Cost: Rs 350 (U$S 8.75) for tourists and Rs 200 (US$ 5) for locals.
Visit the Ganga Talao (Grand Bassin)
If you're wondering what to do in Mauritius Island, make sure to visit Ganga Talao, also known as Grand Bassin. It's a large crater lake located in the central region of Mauritius close to the Black River Gorges National Park.
The Ganga Talao is the most important place of worship for the Hindu community of Mauritius and home to a 33-meter statue of Lord Shiva, the tallest on the whole island.
In 1972, water was brought from the Ganges in India and mixed in Grand Bassin to create a link between these two religious sites. Nowadays, every year during the Maha Shivaratri celebrations, thousands of Hindus from every corner of Mauritius go on a pilgrimage to the Ganga Talao.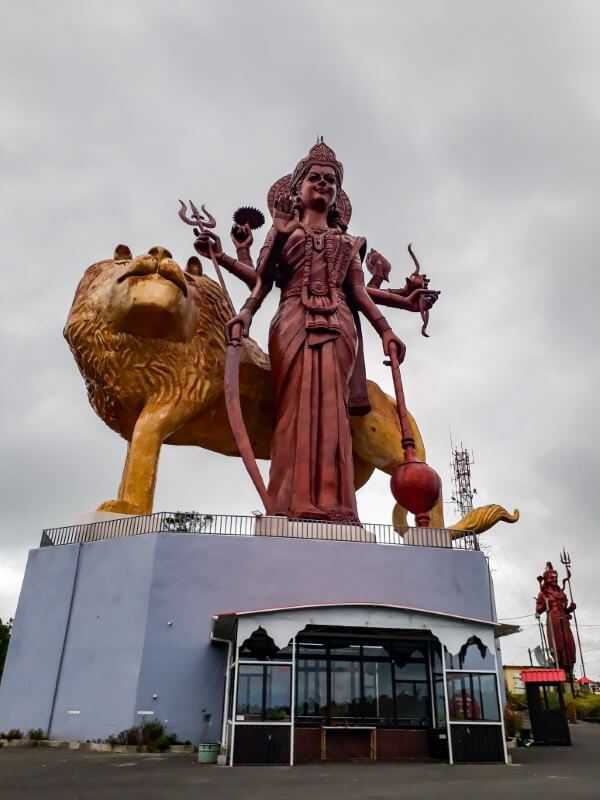 The lake looks very peaceful and is dotted with temples and statues of Hindu Gods. Be careful of the monkeys though as there are quite a few in this area. Nevertheless, it's one of the best places to visit in Mauritius.
Entrance is free and make sure to dress respectfully before entering the site and temples.
Weekend trip to Rodrigues Island
If you want a little extra vacation within your Mauritius vacation, why not spend a weekend in Rodrigues Island? This little island is sometimes referred as the Mauritius of yesteryears, making it perfect for those seeking a slower pace of life.
Most people travel to Rodrigues mainly to relax but the island also boasts an incredibly raw landscape with lots of opportunities for adventurous activities such as hiking, zip-lining, and cave exploration.
Some of the best places to visit in Rodrigues include Trou D'Argent, Ile aux Cocos, Mont Limon viewpoint, François Leguat Reserve, Port Mathurin and more.
Since Rodrigues is much smaller than Mauritius, you can easily visit the most popular attractions during a weekend trip but if you really want to uncover some hidden gems, I highly recommend spending at least one week on the island.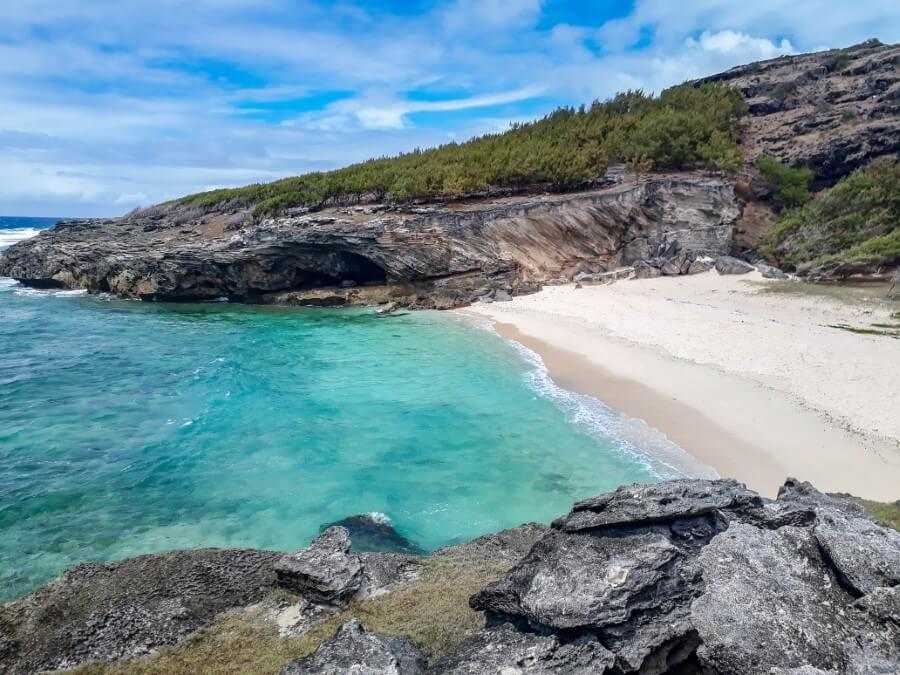 Related post: 20 Unique Places to visit in Rodrigues Island
How to get around Mauritius?
The best way to get around Mauritius is by renting a car since you'll get the freedom to go anywhere you want and explore off the beaten path. Car rentals in Mauritius start from Rs 1,000 (US$ 27.50) per day and gas costs Rs 44 (US$ 1.20) per liter.
Taxis are also available but unfortunately can quickly eat up your budget.
If you're planning a backpacking trip to Mauritius, you can get to most of the popular attractions by bus.  A regular bus ticket in Mauritius costs between Rs 12 and Rs 34 (less than US$ 1) per trip, depending on the distance covered. 
You can click the links below to book your airport pick-up in Mauritius:
Where to Stay in Mauritius?
Solana Beach Hotel
Solana Beach Hotel is an adult-only hotel, located in the east of Mauritius, in Belle Mare. The hotel is affordable and the great thing about it is that each room faces the ocean! The rooms are nicely decorated, each with a private bathroom and a huge bed! Solana Beach hotel is perfect if you're looking for a relaxing vacation right on the beach!
Book your stay at Solana Beach Hotel here
Radisson Blu Poste La Fayette
Radisson Blu Poste La Fayette is an adult-only hotel also located along the east coast of Mauritius. Each room features a double bed, air-conditioning, TV and a coffee station and you have the choice between rooms with an ocean or garden view.
Breakfast and dinner are also included in the price and I can't forget to mention that their dessert selection is A-MA-ZING!
Book your stay at Radisson Blu Poste La Fayette here
Vanilla House
If you're looking for a cheap place to stay in Mauritius, look no further than Vanilla House. Located on the west coast of Mauritius, the guesthouse offers nine spacious suites tucked in the middle of a lush green garden.
Each room comes with either a double bed or two twin beds, a private bathroom, kitchenette, free Wi-Fi and the most delicious breakfast you could ever wish for! Read my full review about my stay at Vanilla House or book here.
Book your stay at Vanilla House here
Club Med La Pointe
One of my favorite all-inclusive hotels in Mauritius, Club Med La Pointe is located in the north of Mauritius, in Pointe aux Canonnier. The rooms are spacious, the food is great and you can take advantage of the free non-motorized water sport activities. There is also another Club Med hotel in Albion but the price is slightly higher.
Best time to visit Mauritius
Mauritius Island has two distinct seasons: summer (November to April) and winter (May to October). Although you can travel to Mauritius at any time of the year, try to plan your trip between May and October to benefit from lower hotel prices. The rain will also be less likely to affect your plans during these months.
December to March is the cyclone season, so the weather can sometimes be unpredictable and it will be raining a lot more.
On average, you can expect temperatures of about 18 to 25 degrees Celsius in winter and 27 to 31 degrees Celsius in summer. Temperatures can sometimes go up to 35 degrees Celsius in the north and along the coastal regions.
---
If you're traveling to Mauritius for up to 10 days, you can download this free Mauritius Itinerary e-book that's perfect for all types of travelers! All you need to do is to sign up below!
As you can see Mauritius isn't just your typical honeymoon destination. There is something for all types of travelers, whether you want to relax on the beach or explore deeper into the mountains and forest. I hope this list of 39 things to do in Mauritius gave you some inspiration for your next trip!
Read more about Mauritius:
Liked this post? Pin it for Later!