The Porlwi by Light festival began in 2015 in order to spread awareness of the history and cultural heritage of Mauritius while highlighting the importance of nature. Local and international artists were commissioned to add more color to some of the streets and previously run-down buildings of Port Louis.
The first few street arts in Mauritius started on Bourbon Street but quickly spread out to other corners of Port Louis, including Chinatown and the Caudan Waterfront.
This article will show you a massive collection of over 70 colorful street arts in Port Louis Mauritius! I've also linked to a map at the end of this article with the exact location of each mural in this Mauritius street art guide so that it's easier for you to navigate.
BEST TIME TO SEE STREET ARTS IN MAURITIUS
The best time to see street art in Mauritius is on Sundays. Most attractions and restaurants will be closed but it will be less crowded and there won't be much traffic, making it easier to take photos. Alternatively, you can go on a Saturday to shop around in the morning and shoot photos in the afternoon when it's not too crowded.
STREET ARTS IN CHINATOWN
The New Chinatown Foundation is a non-profit organization that mainly aims to preserve the cultural heritage of Chinatown in Mauritius. In order to promote Mauritius as a thriving tourist destination, they commissioned some of the most talented artists to paint several street art all over Chinatown.
Since most of the murals are not too far from each other, it won't take more than 30 minutes to find all of them!
EMMANUEL ANQUETIL STREET
This cute little cat is found right across "Le Grand Bleu de Maurice" mural. It can be easy to miss since it's small and located a bit high on the wall.
Related post: 20 awesome things to do in Port Louis
DR. JOSEPH RIVIERE STREET
Read more: 31 beaches to visit in Mauritius
ROYAL ROAD
Frau Isa illustrated the beauty and diversity of the Mauritian women through this huge mural located at the beginning of Chinatown on Royal Road.
This one fits perfectly in Chinatown and was painted by Wenna with such great care for details that it must have taken quite a while to complete!
Just a few meters ahead, you'll come across two old doors that have been painted in this bright yellow color. 
Read more: 44 epic things to do in Mauritius
VENPIN STREET (MANGA STREET)
Venpin Street used to be an abandoned little alley but thanks to the initiative of the New Chinatown Foundation, it's now one of the most colorful streets in Port Louis! It reminds me a lot of Mural Art's Lane in Ipoh Malaysia!
EMMANUEL ANQUETIL STREET (MANGA STREET 2)
DR. SUN YAT SEN STREET
As you explore further along Dr. Sun Yat Sen street, you'll find a store completely covered with the pop art of Dr. Sun Yat Sen, also known as the Father of the People's Republic of China. 
The New Chinatown Foundation, with the help of young artists, has recently painted these two beautiful murals to commemorate the founding of the 70th anniversary of the People's Republic of China. I was lucky enough to see the artists in action and the result is outstanding!
Near the entrance of Chan Chak Pagoda, you'll see this huge mural of a white Pekin opera mask.
This huge mural covers the whole length of Chan Chak Pagoda. It was commissioned to illustrate the diplomatic relationship between Mauritius and China.
I love this gold bicycle mounted in front of these colorful wooden boards. I'm sure it's going to become a very popular selfie spot just like the famous "Kids on Bicycle" art by Ernest Zacharevic in Penang, Malaysia!
Update: Unfortunately, this one is no more 🙁
And finally, you can see Bruce Lee showing off his skills at the end of the Dr Sun Yat Sen Street.
REMY OLLIER STREET
STREET ARTS IN PORT LOUIS CENTRE
SIR ROBERT TOWSEND FARQUARD STREET
This is the busiest and loudest street in Port Louis and also where the Central Market is found. You'll find lots of street vendors selling fruits, clothes, and accessories for cheap.
SIR WILLIAM NEWTON STREET
As you continue along Sir Robert Towsend Farquard Street, turn left at the intersection in the direction of the Mauritius Commercial Bank to see these three massive street art.
REMY OLLIER STREET
BOURBON STREET
The duo from 44flavours created this contemporary abstract design to give a pop of color to the streets of Port Louis.
The black and white mural by Brian Lamoureux perfectly shows the contrast between the urban and colonial architecture, a tribute to the city of Port Louis. 
Probably the most interesting piece of art out there that kind of reminds me a lot of the Manji tribe from Jumanji! 
MERE BARTHELEMY STREET
CATHEDRAL SQUARE
This is one of my favorite street art in Mauritius! I absolutely love the vibrant colors!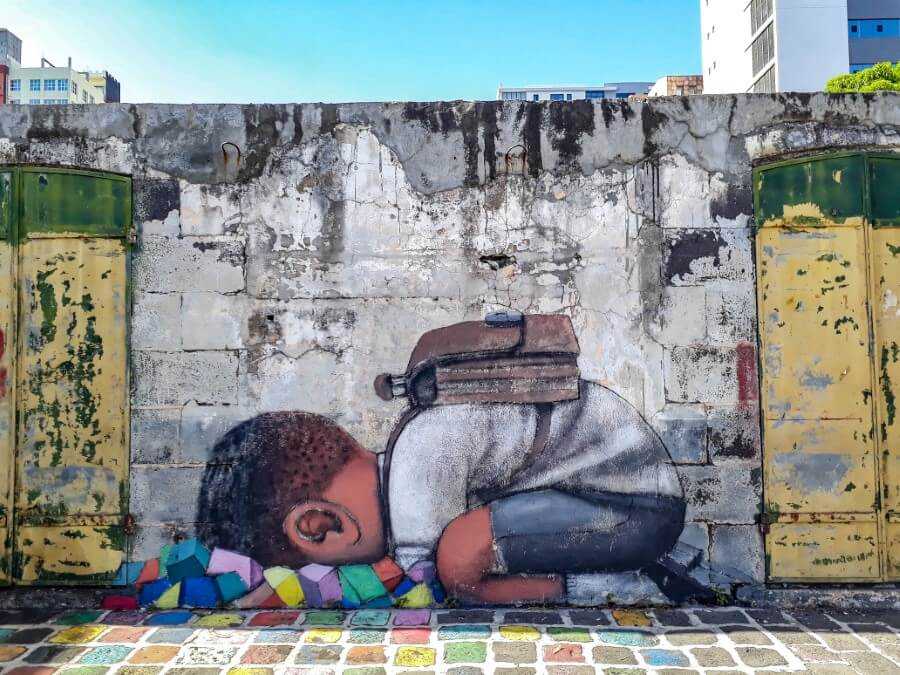 EDITH CAVELL STREET
A unique electric blue street art by the local artist, Evan Sohun.  
CHEVREAU STREET
RUE DU VIEUX CONSEIL
Near the Photography museum, you'll find a whole wall covered with mandala designs and a rabbit painted on an old metal door.
LA CHAUSEE STREET
STREET ARTS IN CAUDAN WATERFRONT
The Caudan Waterfront in Port Louis consists of luxury and affordable shopping malls, a craft market, two hotels, and a food court, all built on reclaimed land. You'll find a huge collection of street art here and near the "Granary" which has now been converted into a parking lot.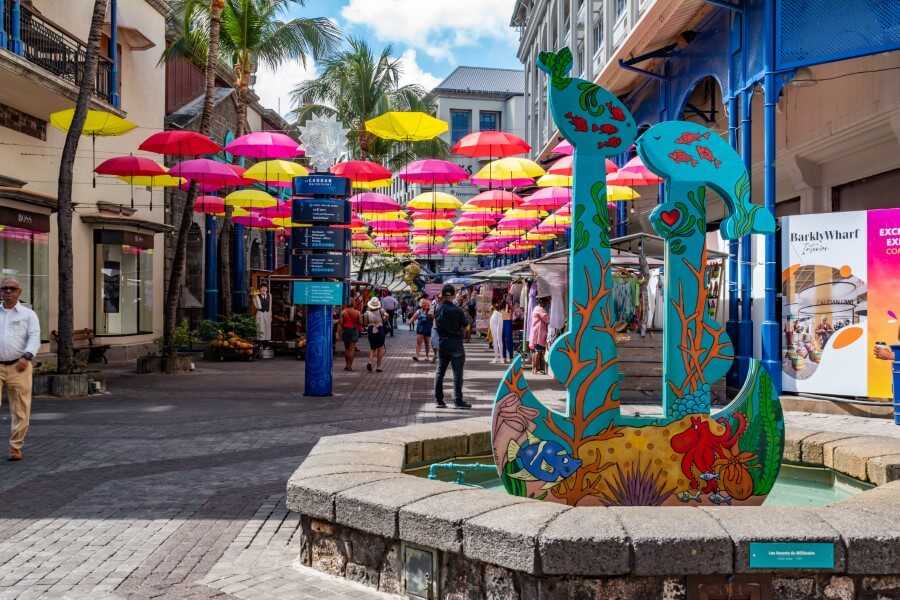 The following street arts can be found on the Caudan Arts Center Building.
On the way to the Granary, you'll find a huge mural of the now extinct Dodo bird.
VICTORIA URBAN TERMINAL
Along the newly built Victoria Urban Terminal, you'll find a whole collection of street arts painted by several local artists.
I hoped you enjoyed this collection of 70+ street arts in Mauritius! You can view this map to help you locate each mural and if you ever come across others that aren't included in this Mauritius street art guide, please let me know in the comments below!
Check out these posts to help you plan a trip to Mauritius:
LIKED THIS POST? PIN IT FOR LATER!