Wondering where is the most popular waterfall in Mauritius? This comprehensive guide to Tamarind Falls in Mauritius got you covered with everything you need to know from how to get there, whether you need a guide and more!
Although Eau Bleue Waterfall is my favorite waterfall in Mauritius, Tamarind Falls comes at a very close second. Set in the middle of a lush valley situated in the central region of Mauritius, Tamarind Falls (also known as Tamarin Falls or 7 Cascades) consists of not one but 12 incredible waterfalls!
Although hiking to Tamarind Falls is one of the best things to do in Mauritius, it's clearly not for the fainted heart! The hike can be challenging at times but totally worth it for the spectacular views and a chance to jump into the emerald pool!
So, keep reading if you want to know exactly how to hike to Tamarind Falls (7 Cascades) in Mauritius.
Disclaimer: This article may contain affiliate links, which means that each time you click through and make a purchase, I may earn a small commission at no extra cost to you.
Where is Tamarind Falls (7 Cascades)?
Tamarind Falls is situated in the village of Henrietta, about a one hour drive from the main tourist hubs of Port Louis, Mahebourg, Grand Bay and Le Morne.
Related post: 20 easy to moderate hiking trails in Mauritius
How to get to Tamarind Falls (7 Cascades)?
The cheapest way to get to Tamarind Falls is by taking the bus. The bus terminal is found about 1.2 km from the waterfall starting point, which is about a 20 minutes' walk. Direct buses are available from either Port Louis or other towns such as Curepipe or Rose Hill. Bus tickets cost less than US$ 1 per trip depending on the distance covered.
You can also rent a scooter from Rs 600 (US$ 16.20) per day or a car from Rs 1,000 (US$ 26.95) per day and gas costs Rs 44 (US$ 1.20) per liter.
To make it easier for you, I recommend searching for the location of Henrietta Bus Station on Google Maps (click here for the exact location). As you get closer, you will notice a few signs pointing the way to Tamarind Falls.
You will then reach a small bus terminal which is found on your right. Keep driving straight ahead for about two minutes until you see a Hindu temple on your left and a cemetery further ahead (also on your left). The road becomes quite bumpy here but still manageable with a small car.
There's no parking lot at Tamarind Falls but you can instead leave your car on the side of the road next to the cemetery.
The trailhead is found opposite the cemetery along a path between the sugar cane fields.
Read more: A comprehensive guide to Eau Bleue Waterfall + Map
Is there an entrance fee to Tamarind Falls?
No, Tamarind Falls is totally free to visit! The only thing that you might have to spend money on is hiring a guide.
While it's possible to hike Tamarind Falls without a guide, I would still recommend that you do if it's your first time visiting or if you're not too confident hiking on your own.
Having a guide will ensure your safety and prevent you from getting lost. Although there are orange markers here and there, it can be quite tricky to find your way.
The first time I visited Tamarind Falls (7 Cascades), I hired a guide for Rs 1,500 (US$ 40.45) per group. There were 8 of us, which came down to Rs 188 (US$ 5.05) per person.
During my second visit, I didn't hire a guide and mostly made use of the orange markers to find my way.
Related post: Ultimate guide to hiking Cascade 500 Pieds
The hike to Tamarind Falls (7 Cascades)
A word of warning though, hiking to the Tamarind Falls can be challenging! The trail is very steep and extremely slippery especially if it has been raining recently. If you're scared of heights, unfortunately, this hike isn't for you.
From the main road, walk towards the sugar cane fields until you reach an intersection. Take the left and you'll immediately reach another intersection.
From here take the left again and walk along a path that goes mostly downhill. Since the trail is very steep, make sure you hold on to the branches and tree roots to steady yourself.
After about five minutes, you'll hear the sound rushing water until you finally arrive at the top of the first waterfall. Take a moment to snap some photos and enjoy the view of the gorgeous valley and emerald pools below.
Next, cross over the stream and follow the path to the other side where you'll eventually get to walk behind the waterfall. You may get soaked here from the mist flowing in every direction due to the force of the wind.
On my second visit, this part was very slippery since it's has been raining the previous day. There isn't much to hold on to, so you need to be extremely careful. This is why I recommend you wear proper hiking shoes to avoid slipping in the mud. Hiking in sandals or regular sneakers is obviously a bad idea!
Once you get past this section, the trail becomes rocky but much easier. From here, you'll get an incredible view of the waterfall plunging from a height of 30 meters.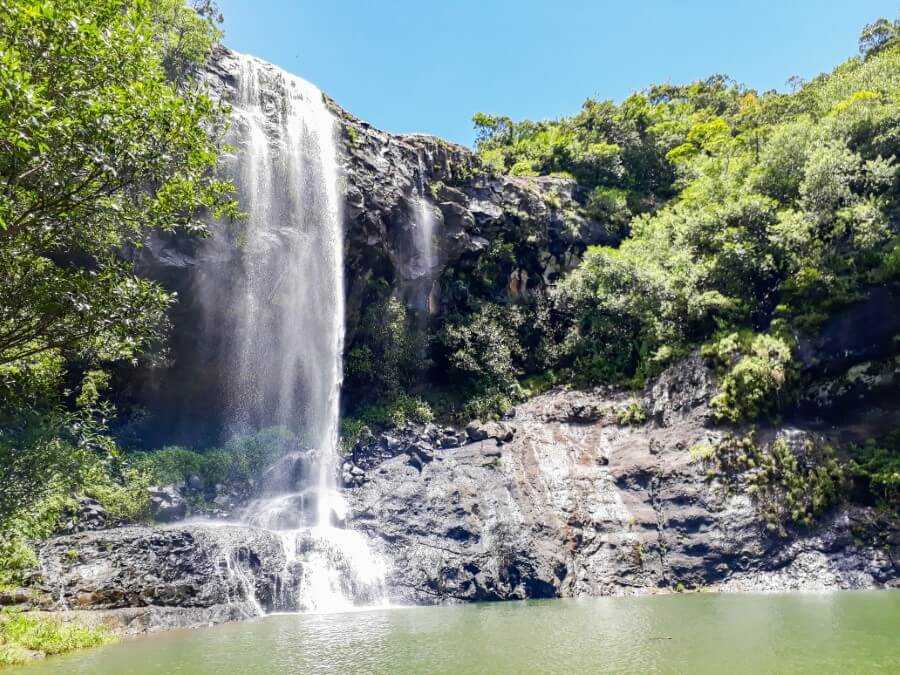 You might be tempted to swim here but my guide advised against it as the water is very deep and the current can be strong.
To get to the next waterfall, you just need to follow the trail ahead. The second waterfall is smaller and less deep thus safer to swim in.
If you're visiting with a guide, you'll have the option to get to the third waterfall much quicker by sliding down a steep rock cliff. Unless you have some kind of superpower (my guide did btw!), this is only possible with the help of ropes which will be provided by your guide.
If you're visiting without a guide or are afraid of heights, there is another path on the right which goes around the cliffs. It's about a 15 to 20 minutes' walk between the jungle to reach the base of the third waterfall.
Most people stop their hike at the third waterfall but it's actually possible to reach the base of the next one from here. Keep walking towards the very edge of the fourth waterfall until you see a narrow path on the right. The trail can be a bit tricky but keep your eyes peeled for the orange markers on the trees and boulders to help you find your way.
After about 30 minutes you'll finally arrive at the 4th waterfall which, in my opinion, is the most beautiful waterfall at Tamarind Falls!
You'll find two sets of waterfalls cascading into an emerald green pool which then splits into two more waterfalls before plunging into another massive pool!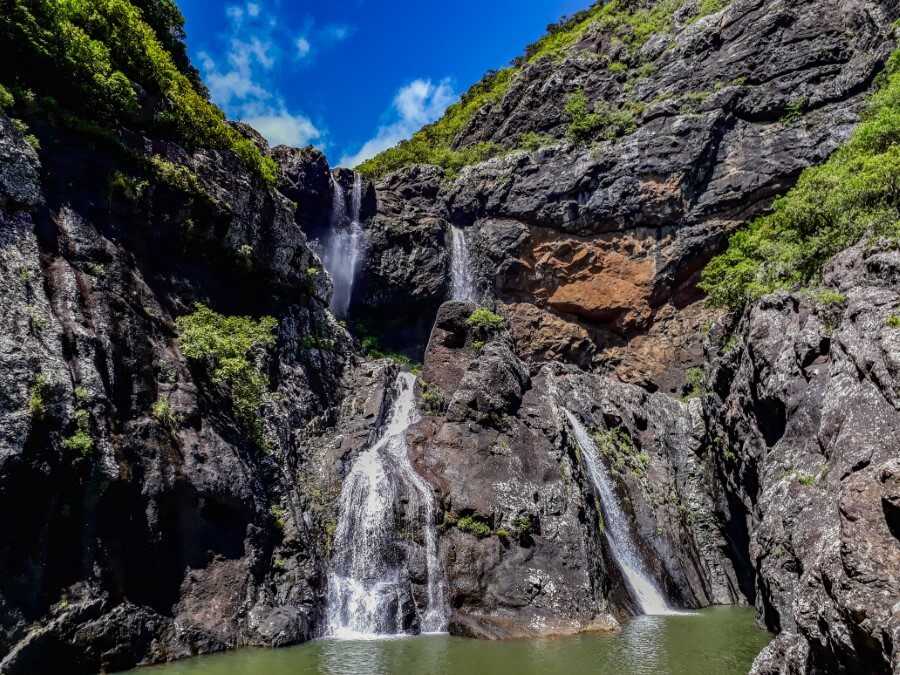 Make your way over the rocks towards the right side and follow the path that goes uphill to get a closer look at the upper falls.
Make sure you turn around to find another waterfall flowing from above the left side of the cliff face to finally meet into the stream below.
Finally, make your way back to where you came from or keep following the trail that goes down the river bank until you see a path on the right that leads uphill. Again follow the orange markers to avoid getting lost.
I recommend at least 4 to 5 hours to fully explore all the main waterfalls.
Read more: How to visit the Eureka Waterfalls?
Best time to visit Tamarind Falls (7 Cascades)
If you want to witness Tamarind Falls at its most powerful, I recommend visiting between the end of December to March. This coincides with the rainy/cyclone season, making the waterfalls look more impressive.
While you can visit at any other time of the year, the water level will be much lower.
Things to know before visiting Tamarind Falls
Bring mosquito repellent! I learned this the hard way and can't stress this enough! If it has been rainy recently, the path will be full of mosquitoes.
Wear good hiking shoes as the trail is very challenging and slippery.
Start the hike early as it gets very hot during the day.
Where to stay in Mauritius?
---
Planning a 10-day trip to Mauritius? Download your free Mauritius Itinerary e-book that's perfect for any type of traveler! All you need to do is to sign up below!
I hope you found this guide to Tamarind Falls helpful! Let me know in the comments below if you any questions and I'll be happy to help!
Read these guides next if you're planning on doing more hikes in Mauritius:
Pin For Later!