This complete guide to hiking Le Pouce Mountain in Mauritius includes everything you need to know from how to get there, what to expect, and essential tips!
Situated in the central region of Mauritius, Le Pouce is the third tallest mountain in Mauritius standing at a height of 812 meters.
The mountain is shaped like a thumb, hence the name Le Pouce. This is one of the easiest hikes to do in Mauritius and those who climb to the summit are rewarded with a breathtaking 360-degree view of the whole island!
From one side, you can see the capital city of Port Louis with its high-rise buildings while the other boasts incredible views over the neighboring mountains flanked by sugarcane fields.
Hiking to Le Pouce Mountain is without a doubt one of the top attractions in Mauritius since the trail is easy to follow and doesn't require too much strength (well, except for the "Thumb" section).
So, keep reading if you want to get all the details on how to hike Le Pouce in Mauritius!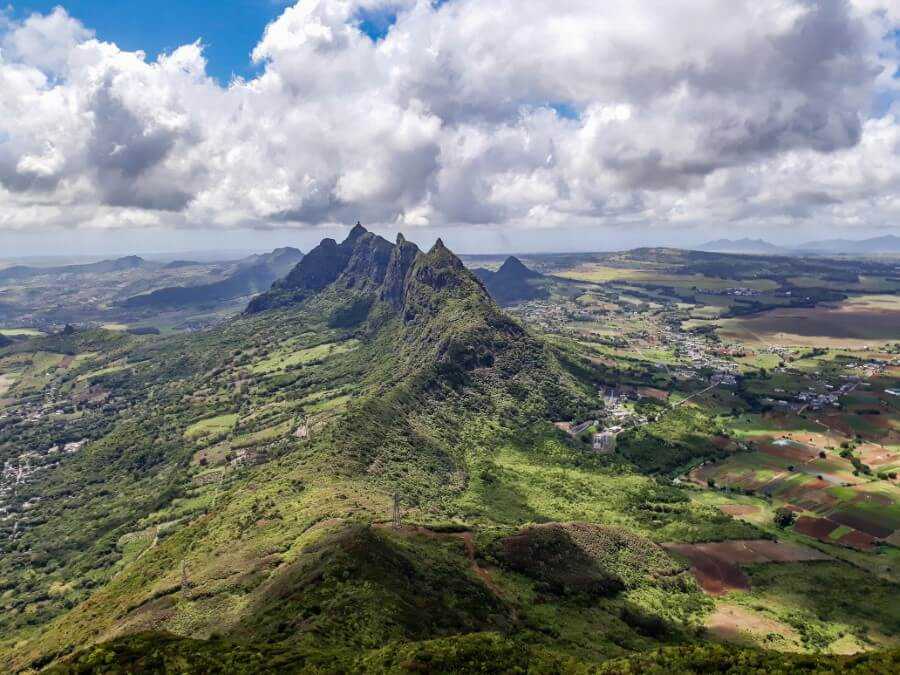 ***This article may contain affiliate links, meaning each time you click through and make a purchase, I earn a small commission at no extra cost to you which helps a lot in keeping this website running. Thank you for your support 🙂
Where is Le Pouce Mountain?
Le Pouce Mountain is situated in the central region of Mauritius in the village of Petit Verger Saint Pierre. It's about 20 minutes from Port Louis, 50 minutes from Mahebourg or 1h 45 minutes from Le Morne.
I've marked the beginning of the trailhead on Google Maps which can be found here.  
CHECK PRICE FOR A GUIDED HIKE OF LE POUCE MOUNTAIN
Related post: 30 best hiking trails in Mauritius
How to get to Le Pouce Mountain?
You can get to le Pouce Mountain by bus from either Port Louis or Saint Pierre. Bus tickets cost from Rs 17 to Rs 44 per trip (about US$ 1 or less) depending on the distance covered. Ask to be dropped off in Petit Verger along Bois Cheri Road. The bus station is found on the main road which is about 1 km from the trailhead.
Alternatively, for those planning to drive around Mauritius, you can rent a car for about Rs 1,100 (US$ 25) per day.
CHECK CAR RENTAL RATES IN MAURITIUS HERE
If you're coming from the village of Saint Pierre, you'll find a little side road on your right towards the end of Bois Cheri Road (B47). The road is very narrow and if you're hiking on a weekend you might need to park your car at the beginning of the road due to lack of space.
If it's not too busy, keep driving until you reach the trailhead. You'll find a makeshift parking lot that can only fit a few cars. Alternatively, you can park alongside the road.
Don't feel comfortable hiking on your own? Click here to hire a local guide!
Related post: Hiking Le Morne Brabant mountain
How to hike Le Pouce Mountain?
After parking your car, follow the trail surrounded by sugarcane fields until you reach the sign as shown in the photo below. In some places, you'll find blue and white markings painted on the ground which will help to guide the way.
Keep walking straight ahead until you find two little paths. You can take both since they meet higher up where you'll find a huge boulder on which is written "Na Pa Faire Nou Montagne Vine Zot Poubelle". So please keep the mountain clean and avoid leaving any trash behind.
From there, take the left and continue along the path sheltered by a canopy of trees. You'll eventually reach the first viewpoint after a huge boulder shaped like a chair.
After this point, the hike gets more challenging. You basically have to get down on your hands and knees and hold on to the trees since the path is steep and slippery, especially if it has been raining. You'll then reach another viewpoint and from there, the hike gets much easier.
Related post: Complete guide to hiking Cascade 500 Pieds
A few meters from the second viewpoint is a large rock wall painted blue. This is where the blue and white markings stop and where most people are likely to get lost.
Walk a few meters ahead and turn right along a small path that goes slightly uphill until you reach an intersection. Keep going straight ahead and in about 15 minutes you should reach another viewpoint from where you can even spot Le Morne Brabant Mountain.
Another 10 minutes are required to reach the base of the "thumb" where you can relax on the large green field and enjoy the view.
To get to the summit of Le Pouce, make your way along the path behind the green field. This is the most challenging part as the trail is very steep and the wind won't make the hike easy. And also make sure to watch out for falling rocks!
CHECK PRICE FOR A GUIDED HIKE OF LE POUCE MOUNTAIN
Depending on how fit you are, you'll reach the summit in about 20 minutes. The top can accommodate only about 10-15 people and offers the most breathtaking 360-degree views over Pieter Both Mountain, Port Louis and Plaine Wilhems.
Related post: How to visit Le Souffleur: Mauritius' most unique natural attraction
Things to know before your hike
The overall hike is about 4.5 km.
Depending on how fit you are, it takes about 45 minutes to 1 hour to reach the base of the "thumb and from there about 20 minutes to the summit. While the hike down takes about 1 hour.
I highly recommend wearing proper hiking shoes as the path towards the end is very steep and rocky.
You can hike Le Pouce at any time of the year but avoid hiking on a rainy day.
There's another hiking trail that starts from Port Louis but the hike is longer and more challenging.
If you don't feel comfortable hiking on your own, you can click here to hire a local guide.
Where to stay in Mauritius?
Related post: Best places to stay on Mauritius Island
I hope you found this Le Pouce Mountain hiking guide helpful! Let me know in the comments below if you have any additional questions!
More hikes in Mauritius:
Liked this post? Pin it for later!